Back to Articles
How We Identify An Investment Hotspot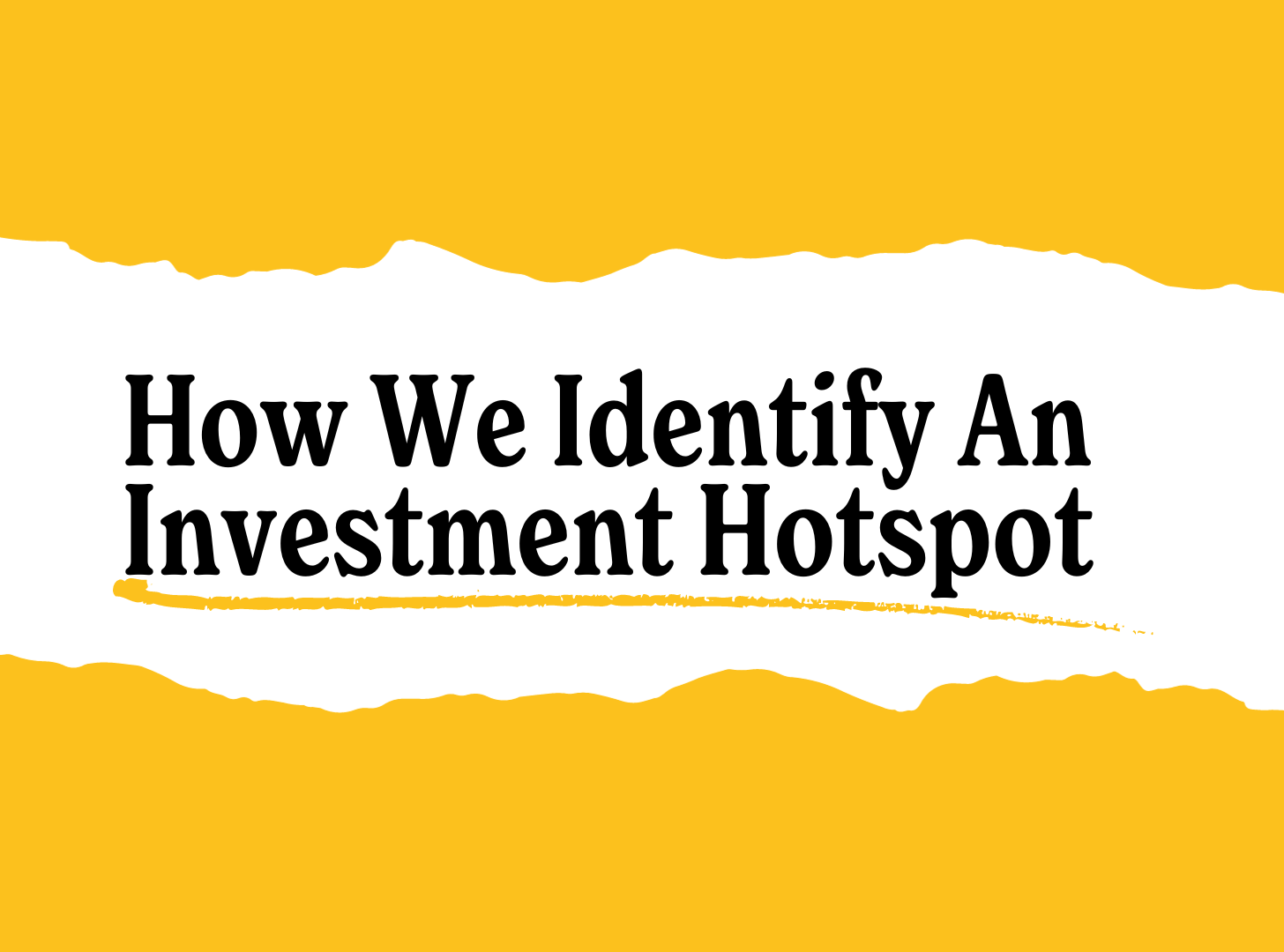 When it comes to starting your investment journey, or selecting your next buy-to-let property, it can be hard to pinpoint the best areas to focus on. Many investors can get bogged down with calculating potential rental yields, exploring local amenities, arranging viewings, and understanding tenant demand, which can lead to a long, arduous process before you've even placed an offer on a property. At Joseph Mews, our team is on-hand to handle all of the hard work for you by keeping a close eye on the property market, working with the most reputable developers, and offering ready-made off-plan property investments that work for you. How do we do it? Here are the criteria we explore to select the most promising investment opportunities for our clients.
Research Market Trends:
We start our journey by researching the current trends in the UK property market, and looking at prospective trends that could influence supply and demand in the future. At Joseph Mews, we focus on finding regions where property values have been consistently rising over the past few years. Beyond looking at historic price data, we also explore regions that are seeing significant infrastructure developments, such as new transportation links, business districts, or cultural attractions, as these can drive up property values. 
An example of this is Birmingham, which has seen impressive growth over the last few decades and continues to show promise. With a pipeline of huge redevelopment – namely in HS2 at Curzon Street, Smithfield regeneration scheme, and expansion of Birmingham International Airport – it is clear that Birmingham will remain an investment hotspot for years to come.
Analyse Local Economic Factors:
Our team study the local economy of potential investment areas, believing that a strong and diverse economy is a good indicator of a property hotspot. This means pinpointing areas with low unemployment, impressive job growth, and healthy business environments that attract SME's and big corporations alike. Each of these factors are directly linked to the performance of the local property market, with better employment and investment from businesses leading to increased demand for properties. This, in turn, drives up competition and prices, generating better yields for investors.
Consider Rental Supply And Demand:
When investing in property, it is important to establish how much demand is in a specific area. Low demand will likely see your property sat on the market for longer, with more void periods, and generate a weaker return on your investment than you'd hoped. We explore local market vacancy rates and rental yields in order to determine the rental potential of an area, with lower vacancy and higher yields suggesting that demand for property is competitive. 
It is also important to examine any upcoming local regulations which could stifle the pace of house building or make finding viable rental properties more difficult – a good example of this is Selective Licensing. Selective Licensing schemes prohibit low-quality units from being let out to tenants, as landlords will be unable to obtain a license for an inadequate property. Although this increases the quality of rental units on the market, it can impact the number of units available, making the local market even more competitive by reducing supply.
This is one of the reasons why we suggest Derby to budding property investors – rental demand in this city is high, with the local council being asked to increase the number of available properties and thousands of individuals sitting on waiting lists looking for viable accommodation. What's more, job growth in the city is hitting unprecedented heights, bringing thousands of new employers and employees into Derby each year. Demand for property in this region is clearly outstripping supply, making rental demand high and certifying Derby as an investment hotspot worth considering.
Examine Population Growth:
Speaking of supply and demand, the greater population growth is in an investment hotspot the more competition there will be for rental properties, which is likely to drive up prices and boost your rental yields. That's why we look for regions with steady population growth. Tenants usually move to a specific region to pursue their careers, educational opportunities, or for better quality of life. This is why many people are moving out of London and into the Midlands where job opportunities are abundant and their income goes further. Research suggests that Londoners spend over half of their income on rent, compared to 37% for the rest of the nation. This is contributing to a mass exodus of people moving out of the capital and towards cities such as Manchester, which has seen 9.7% population growth from 2011 to 2021. It's no wonder so many of our clients have chosen to invest in this fast-growing city.
Evaluate Amenities and Lifestyle:
It is important to consider the amenities and lifestyle factors that can attract residents. Areas with good schools, healthcare facilities, green spaces, shopping centres, and cultural attractions tend to be popular among home buyers and renters alike. With the largest number of private renters being aged between 25 and 34, it is safe to assume that the average tenant wants access to parks to walk their dogs, nurseries to send their children, and cinemas, bars and shopping centres to unwind in their leisure time. Regions with little to offer in terms of job opportunities, local shops and family-friendly activities are often disregarded by movers in favour of more vibrant towns and cities. 
Keep an Eye on Future Developments:
Look for upcoming developments and projects in the area, such as new schools, hospitals, or commercial centres. These can boost property values in the long run by creating more jobs, boosting the local economy and enhancing the appeal of the local area. This is one reason why we have pinpointed Manchester as an exceptional place to invest – the pipeline of future developments in the city is extensive. Projects such as the rejuvenation of Manchester Airport are making the city even more accessible to people from across the country and even from across the globe. Furthermore, business is looking bright in Manchester as huge redevelopment schemes such as NOMA, Spinningfields and MediaCity are set to bolster the city's economy and produce an array of jobs. All of these schemes solidify Manchester's status as an investment hotspot worth considering for your next investment.
Assess Risk Factors:
Property investment is not without risk, and some regions will come with more risk than others. Certain neighbourhoods may suffer from high crime rates, nearby environmental hazards, and economic vulnerabilities that could impact your investment. Furthermore, if you choose to invest in a region with a pipeline of ambitious developments, it is important to ensure that these do not have a temporary impact on your investment property. Noise pollution, the eyesore of a construction site, and issues with road closures and parking can be off putting to tenants. 

Consult the Experts:
Investment experts such as Joseph Mews can provide valuable insights into the property market dynamics and investment potential in specific neighbourhoods. From examining the economy of investment hotspots, to certifying there is enough rental demand, and carrying out in-depth market analysis to better understand projected returns – we conduct all of the research for you so that you can focus on what matters to you. For further information on how Joseph Mews' investment team can help you find properties that enhance your portfolio, or for advice on how to start your buy-to-let investment journey, get in touch with our team.