Positive Property Forecasts
A key decision for many investors asking 'why invest in UK property' is the positive property market forecasts we're seeing in 2022.
After a year of social distancing guidelines and national lockdowns, UK property has thrived, breaking record price levels to reach an all-time high.
The pent-up demand the market saw last year has led to experts predicting that UK property prices could rise by 4.5% in 2022, which would see an already record high price of £270,708 continue to increase.
They also predict that the momentum of the last 18 months could sustain further price growth for the next four years, where UK property price growth could reach 24.5%. 
| | | | | | | |
| --- | --- | --- | --- | --- | --- | --- |
| Region | 2022 | 2023 | 2024 | 2025 | 2026 | Overall |
| North West | 4.5% | 4.0% | 2.5% | 2.5% | 3.0% | 16.5% |
| North East | 3.0% | 3.0% | 2.0% | 2.5% | 3.0% | 13.5% |
| East Midlands | 4.0% | 4.0% | 2.5% | 3.0% | 4.0% | 17.5% |
| West Midlands | 4.0% | 4.0% | 3.0% | 3.5% | 4.5% | 19.0% |
| South East | 5.0% | 5.0% | 3.5% | 4.0% | 4.5% | 22.0% |
| London | 6.0% | 5.5% | 3.5% | 4.0% | 4.5% | 23.5% |
Source: JLL
This data alone is a clear indication of why buyers are looking to invest in the UK – regional cores are seeing high levels of growth, led by the West Midlands. As an affordable region, it further highlights the potential of the location as an entry point for property investment.
While the South continues to be one of the most expensive regions in the country, it's expected that London and the South East will rebound over the next four years after a challenging performance since 2016.
Long-Term Rental Growth
Aside from property prices, another key contributor to why investors are looking to invest in UK property is the rental market forecasts.
As renting became more affordable than buying for the first time in five years towards the end of 2021, we saw more tenants enter the rental market than ever before – to a point where supply can't meet demand.
Research by Hamptons has suggested that while buying property has long been more affordable than renting on a monthly basis, the pandemic has left renting marginally more affordable. Specifically, those with a 10% deposit would be £102 worse off each month when purchasing a property than if they were renting. 
This has contributed to rents hitting their highest level in 13 years, with the average rental price increasing to over £1,000. The East Midlands saw the highest increase over the last year, with rents rising by 8%.
Now, UK rental yield forecasts suggest that rental prices could rise by 12% across the country as demand continues to grow.
With this in mind, UK property investments are becoming even more appealing – and with a growing demand for rental property, long-term forecasts are reflecting this.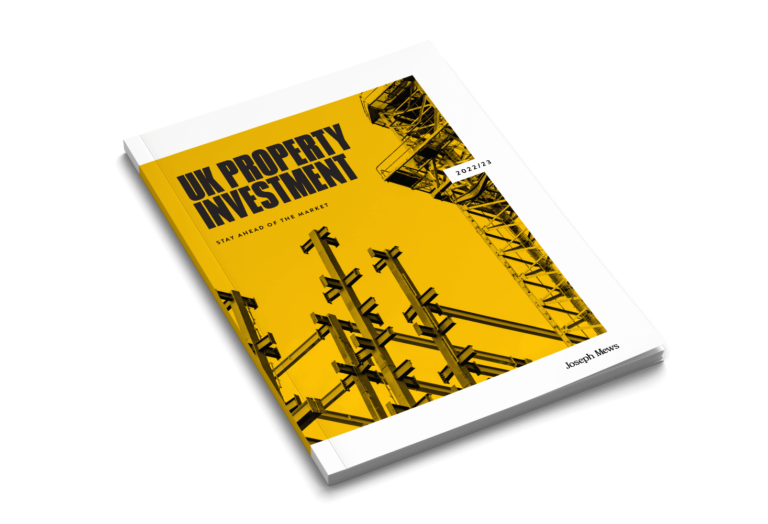 Download the 2022 UK Investment Guide
Want to know more about the UK property market for 2022? Download the UK Investment Guide today and discover everything you need to know about UK property investment in the new year. In this guide you'll find:
Current market performance
Forecasts for the UK property market in 2022
Key trends impacting the market
Best places to invest in 2022
Download Guide
Buyer Confidence Remains Strong
Despite the Stamp Duty holiday having drawn to a close in October 2021, buyer confidence has stayed consistent over the past six months, which is expected to continue into next year. 
In August 2021, reports found that 75% of active buyers were confident about purchasing a property by the end of the year, while 81% of UK sellers were positive about selling their property within three months. 
The unwavering demand in the UK market has been a significant driver behind buyer confidence, as well as the current lending environment. Interest rates are at an all-time low, and with the Bank of England confirming a 0.1% interest rate for the coming months, the wide availability of low-rate mortgages has been another incentive for both homebuyers and investors.
The Perfect Storm of Supply & Demand
For those still wondering, 'why invest in UK property?' The growing disparity between supply and demand is one of many reasons. Tenant demand is the key to a successful property investment, and with a growing population, property investment opportunities in the UK are becoming more lucrative. 
The Private Rented Sector is the second largest tenure in the UK, with buy-to-let properties now totalling over £1 trillion. As an ever-expanding market, research has suggested that tenants will outnumber homeowners by 2039, highlighting the future of the UK property market.
While the UK as a whole has one of the largest populations in Europe, key cities across the country are housing the majority of these residents. Specifically, Birmingham is one of the most populous cities in the UK, and with forecasts expecting the local population to hit 1.24 million by 2030, the demand for property will continue to outpace the supply.
Featured Development
Lockside Wharf
Birmingham
Stunning Off-Plan Investment Opportunity
Off-plan apartments – estimated completion 2023
City-centre location just 3 minutes from Brindleyplace
Unique waterfront living in Birmingham
24.5% price growth expected by 2026 (JLL)
Top location for London leavers – forecasting yields above 5%
A Growing Population
The UK population is on track to reach 74 million by 2040, which will inevitably equate to more tenants in the rental market. 
While 'Generation Rent' makes up the majority of the UK rental market, the number of over-50s renting property is increasing. Currently, there is a record-breaking 1.12 million over-50s in the rental market, and with a quarter of the UK population reaching 65 or older by 2050, there are now more incentives to invest in buy-to-let property.
Young professionals have always been – and always will be – the biggest demographic of tenants. However, as the older generation continues to downsize and turn to the rental market, the demand for these different property types is giving investors the confidence to diversify their portfolios.
Increasing Inward Investment
In recent years, the UK has received an increasing amount of Foreign Direct Investment (FDI). Reaching as high as £1.5 trillion in 2018, inward FDI projects have repeatedly increased by 5% in the past three years.
As the UK continues to be one of the largest receivers of inward investment in the entire continent, it's no surprise that more projects are emerging across the country. The digital tech industry has benefited the most from this inward investment, with an additional 432 projects in 2019 alone. 
With this FDI signifying the potential of the UK, more global businesses are taking the opportunity to open additional offices across the country. While London has long been the obvious choice for companies, the growing popularity of additional cities has seen a surge in regional office spaces. 
For example, Birmingham is in the midst of an ambitious regeneration scheme, and with the city growing in residents and amenities, its commercial hub is expanding. More recently, the likes of PwC, HSBC and Goldman and Sachs have announced Birmingham office spaces.
Frequently Asked Questions
Is buy-to-let a good investment?
If you were to measure how 'good' a buy-to-let investment is based on its past performance, this asset would probably come out on top. However, different assets will suit some more than others based on their financial goals.
If you're looking for a resilient asset that can offer a passive income as well as the opportunity for capital growth, buy-to-let property could be the best asset for you.
With 20% price growth in the UK on the horizon, along with 12% increases in rents by 2026, forecasts suggest that buy-to-let property could be the route to financial freedom for many investors.
Is buy-to-let worth it?
When it comes to investing there's generally no 'one size fits all' approach and buy-to-let property will suit some investors more than others.
However, for those who are looking for a long-term investment asset with a track record of competitive growth and more price increases on the horizon, buy-to-let is often the best option.
Buy-to-let is a flexible investment assets and can offer diversification across a wider portfolio. It's historically one of the most stable assets and is much less exposed to external factors, plus it's a physical asset, which makes it appealing with certain investors.
The answer to 'is it worth it?' depends entirely on how you use it. If you use it as a long-term asset, it's proven to be a potentially lucrative investment vehicle that can be scaled effectively.
How to start investing in property?
For those that want to know how to start investing in property, the most successful investments often start with a clear financial plan.
By understanding your investment goals, you'll be able to determine which asset is best for reaching your objectives and how it can be scaled.
More specifically, this could be an asset that offers higher short-term returns or a property built for a longer holding pattern.
Once you understand this, you can start deciding on locations, property sizes and tenant demographics you might want to target.
Finally, you'll then be able to explore finance options and partners that you can work with.
Why invest in UK property?
UK property is recognised as one of the most appealing investment assets across the world. In comparison to other markets, the UK property market is not only resilient, but it can offer consistent short- and long-term returns.
While rental income can usually cover the monthly payments of the property and then some, this asset also grows over time. UK property prices have been on an upward trajectory for the best part of 10 years, with the average property price now 61% higher than it was 10 years ago.
Where to invest in buy-to-let in the UK?
Understanding where to invest in buy-to-let in the UK continues to be a tough decision for many investors, especially with so many potential locations in the country.
The best way to answer this question is to establish what you're looking to achieve. Do you have short or long-term goals? Are you looking for capital growth or rental yields?
If you're looking for more immediate rental returns, you'll need a location with high yields and strong tenant demand.
On the other hand, if you're investing for capital growth, you'll want to identify areas that are regenerating and redeveloping the surroundings. This kind of activity often pushes property prices higher, which can deliver appreciation over time.
If you're looking to find the best places to invest in the UK in 2022, why not check out our list here? 
Will prices fall in the UK?
After the unexpected growth in property prices in the UK throughout 2020 and much of 2021, a sudden fall in prices was expected, especially with the end of the Stamp Duty holiday.
However, UK property price forecasts expect property prices will continue growing for the next two years, at least. Finishing 2021 on 5% price growth, followed by 4.5% increases in 2022 and 4.5% the following year, forecasts are not anticipating decreases in average property prices across the UK until 2026, at least.