Birmingham Property Market in 2022
After the challenges of the pandemic, the Birmingham property price forecast in 2022 is bright. Birmingham property prices have seen large increases over the last five years and as demand continues to rise faster than supply levels, this looks set to continue.
The inevitable return of office working – plus the addition of businesses such as Goldman Sachs, PwC and HSBC – means there are more professionals working in the city than ever before, which has had a huge impact on the Birmingham rental market.
This momentum will continue with the introduction of HS2, which will be an integral project for boosting Birmingham's connectivity and introducing new renters to the Birmingham property market.
Likewise, the 2022 Commonwealth Games will shine a light on the city, highlighting its potential for investment. This renewed interest would have a ripple effect on local property and further boost Birmingham property prices as more people look to buy in.
In raising the city's profile and showcasing its potential, the Birmingham property investment market is expected to boom. Highlighting – and increasing – the opportunities across the city, an increasing demand for property is inevitable, catalysing the forecasted growth in both property prices and rents.
Birmingham Property Prices in 2022
Birmingham property prices increased by 56% over the last decade, translating to nearly £75,216 between 2011 and 2022.
Following the Brexit vote in 2016, Birmingham property prices also saw the fastest growth in the UK, boosted by the completion of projects such as Grand Central.
With demand for city-centre property on the rise and a vast undersupply of property in the market, it's expected that Birmingham property prices will continue to grow. The average property price in Birmingham has already hit record levels and JLL has named Birmingham as the highest growing city for property prices between 2022 and 2027.
Our Birmingham property price forecast for 2022 suggests that Birmingham prices could rise by 24.5% over the next five years, which would equal around £51,000 by 2026.
Featured Development
Lockside Wharf
Birmingham
Stunning Off-Plan Investment Opportunity
Off-plan apartments – estimated completion 2023
City-centre location just 3 minutes from Brindleyplace
Unique waterfront living in Birmingham
24.5% price growth expected by 2026 (JLL)
Top location for London leavers – forecasting yields above 5%
Birmingham Rental Prices in 2022
When we see Birmingham property prices rising, it's perhaps no surprise that Birmingham rental prices are also growing.
The average Birmingham rent is £1,202 according to Home, while the average Birmingham rental yield has risen to 5.17%.
Largely driven by a fast-growing population and a lack of rental properties in the city, the need for rental accommodation in the city is always growing. At 1,160,000, Birmingham has one of the largest populations in the UK and it's expected to grow to 1,240,000 by 2030.
Birmingham is also a young city. Around 46% of the population is aged below-29 and this younger demographic makes up 60% of the Birmingham rental market, highlighting the potential in the city. Enticed by its low living costs and a growing employment base, our Birmingham property price forecast suggests this increased demand could mean Birmingham rental prices rise by 14% by 2026. 
Coinciding with the rise of 'Generation Rent', the city's popularity amongst the younger demographic is making Birmingham a safe haven for investors. With more tenants in the market than ever before, the demand for rental property is only expected to strengthen in the coming years.
Birmingham Supply and Demand
Supply and demand are key metrics for measuring investment success and currently have a huge impact on Birmingham property prices.
Rising demand and an undersupply of property in the city has led to a very competitive market, which in turn has increased Birmingham property prices and Birmingham rental yields.
With a professional workforce of over 100,000, a huge student base and over one million people living in the region, there's no shortage of demand in Birmingham.
This growing population is one of the key drivers behind our Birmingham property prices forecast, with research suggesting that to meet this incredible demand, 4,000 new homes each year will need to be delivered. However, for the past 10 years, the Birmingham property market has expanded by less than 1,000 new homes every year, highlighting a clear disparity in supply and demand and, a clear investment opportunity.
Enticed by its low living costs and growing employment base, more and more people are flocking to rent Birmingham property, which has made the rental market extremely competitive. 
Coinciding with the rise of 'Generation Rent', the city's popularity amongst the younger demographic is making Birmingham a safe haven for investors. With more tenants in the market than ever before, the demand for rental property is only expected to strengthen in the coming years.
Birmingham Economic Forecast
In recent years, Birmingham's business district has welcomed a plethora of new businesses. Housing the likes of PwC, HSBC and Goldman Sachs, the city's business, finance and professional services industry is the biggest contributor to Birmingham's economy, which is currently valued at over £24.8 billion. 
Offering over 206,000 jobs to the local economy with a GVA of £17.2 billion, the city's growing business district is a key incentive for professional workers relocating to Birmingham. 
Despite the growth in Birmingham property prices, the average salary to house price ratio is relatively low in comparison to other leading cities in the UK. For example, Bristol's ratio is sitting at 9.4 and London is reaching as high as 12.9, while Birmingham is considerably lower at 7.
Indicating a significant difference in spending power, the higher salaries in Birmingham are not only enticing more young professionals to the second city, the lower living costs (in comparison to London and Bristol) is allowing tenants to spend more on renting premium Birmingham property. 
Contemporary living will always remain a tenant priority, which promotes smarter, more economic lifestyles. As one of the most transparent cities in the world, the future of Birmingham is centred on transparency, with sustainability and smart technology at its core. 
Head of UK regions and Midlands at JLL, Ian Cornock, has commented: "Birmingham has held a long-term and far-reaching appeal for both international and domestic investors. In addition to its inherent fundamentals that attract capital, the significant yield compression seen in key European cities has created a notable arbitrage with the UK on a risk-adjusted basis which is leading European and global investors to look towards cities like Birmingham in the search for yield."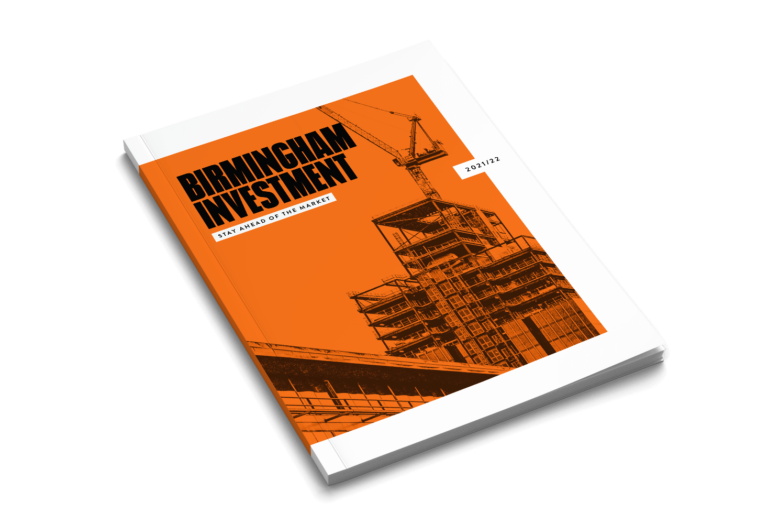 Download the 2022 Birmingham Investment Guide
Want to know more about the Birmingham property market for 2022? Download the Birmingham Investment Guide today and discover everything you need to know about Birmingham property investment in the new year. In this guide you'll find:
Current market performance
Forecasts for the Birmingham property market in 2022
Key trends impacting the market
Best places to invest in Birmingham in 2022
Download Guide
Birmingham Apartment Prices in 2022
While Birmingham property prices have been on an upward trajectory for the best part of 10 years, prices have grown 6% in the past 12 months alone. The global pandemic has accelerated the UK property market in more ways than one, but with the opportunity to save up to £15,000 on Stamp Duty Land Tax last year and the potential for incredible value increases, there are now more investors in the UK market than ever before.
Not only does Birmingham have the highest number of landlords in the UK at 27,000, the second city is also a safe haven for international investors. With Birmingham's steady demand for rental property and its exciting future, the city is a potentially lucrative investment hotspot for landlords – whether they're UK or international based. 
The incredible past performance of Birmingham property offers insight into what is yet to come in this thriving city. Over the last 12 months, Birmingham apartment prices have risen by 7% (£9,649), leading the way for Birmingham property price growth. 
Likewise, over the last decade, Birmingham apartment prices have risen by 45.5% (£45,701). This highlights the potential of a buy-to-let investment in the city, particularly as both long-term and short-term letting strategies are incredibly viable.
Birmingham Property Prices Since 2011
Over the last decade, Birmingham property prices have seen a consistent increase thanks to new development, new amenities and fast rising demand. Below you can see how property prices in Birmingham have changed between 2011 and 2022.
| | | |
| --- | --- | --- |
| Year | Avg. Price | Annual % Increase |
| 2011 | £133,496 | 1.2% |
| 2012 | £130,561 | -2.1% |
| 2013 | £132,248 | 1.29% |
| 2014 | £138,300 | 4.57% |
| 2015 | £144,496 | 4.48% |
| 2016 | £155,274 | 7.45% |
| 2017 | £167,885 | 8.12% |
| 2018 | £177,991 | 6.01% |
| 2019 | £188,356 | 5.82% |
| 2020 | £189,029 | 0.35% |
| 2021 | £199,771 | 5.68% |
| 2022 | £206,500 | 4.47% |