Birmingham Property Market in 2024
Despite the challenges of the pandemic and cost of living crisis, the Birmingham property price forecast in 2024 is bright. Birmingham property prices have seen large increases over the last five years and as demand continues to rise faster than supply levels, this looks set to continue.
There are more professionals working in the city than ever before thanks to huge businesses such as Goldman Sachs and HSBC moving to Birmingham in recent years. With the ongoing construction of HS2, extensive regeneration plans across the city, and relocation of the BBC, we expect even more working professionals to flood into the Birmingham rental market and produce intensified demand in the years to come.
Likewise, the 2022 Commonwealth Games shone a light on the city, highlighting its potential for investment. This renewed interest has had a ripple effect on local property and has further boosted Birmingham property prices as more people look to invest, especially in areas of increased regeneration for the games, namely Perry Barr and Smethwick. 
In raising the city's profile and showcasing its potential, the Birmingham property investment market is expected to boom. Highlighting – and increasing – the opportunities across the city, an increasing demand for property is inevitable, catalysing the forecasted growth in both property prices and rents.
Birmingham Property Prices in 2024
With the aforementioned economic forecast for the UK's second city looking exceptionally bright, we anticipate that Birmingham will continue to be an investment hotspot for 2024 and beyond. 
In fact, Birmingham has a history of fantastic property performance, with property prices increasing by 72% over the last decade, translating to nearly £95,036 between 2013 and 2023.
With demand for city-centre property on the rise and a vast undersupply of property in the market, it's expected that Birmingham property prices will continue to grow. The average property price in Birmingham has already hit record levels and JLL has named Birmingham as the second fastest growing city in the UK for property prices between 2023 and 2027.
Our Birmingham property price forecast for 2024 suggests that Birmingham prices could rise even by 19.2% from 2023 to 2027 at an average of 3.6% per year – a rate only matched by Manchester and surpassed by no other city in the UK. So, if you are looking for a property investment that will create impressive growth in both the short and long term, Birmingham should certainly pique your interest.
Featured Development
The Colmore on St Paul's Square
Jewellery Quarter, Birmingham
A sensitive restoration of a historic Georgian property
1 & 2 Bedroom apartments available
Birmingham property prices set to increase by 19.2% by 2027 (JLL)
Birmingham rental prices set to increase by 19.3% by 2027 (JLL)
Just a few minutes walk from Birmingham city centre
City-centre properties achieving yields between 5% and 6%
Parking available – rare on St Paul's Square
20% Deposit required
Estimated completion Q3 2023
Birmingham Rental Prices in 2024
When we see Birmingham property prices rising, it's perhaps no surprise that Birmingham rental prices are also growing.
The average Birmingham rent is £1,520 according to Home.co.uk, while the average Birmingham rental yield has risen to 5.17%. 
Largely driven by a fast-growing population and a lack of rental properties in the city, the need for rental accommodation in the city is always growing. At 1,160,000, Birmingham has one of the largest populations in the UK and it's expected to grow to 1,240,000 by 2030.
Birmingham is also a young city. Around 43% of the population is aged between 20 and 35, and this younger demographic makes up 60% of the Birmingham rental market, highlighting the potential for buy-to-let properties in the city. Enticed by its low living costs compared to the capital and a growing employment base, our Birmingham property price forecast suggests this increased demand could mean Birmingham rental prices rise by 19.3% between 2023 and 2027. 
Coinciding with the rise of 'Generation Rent', the city's popularity amongst the younger demographic is making Birmingham a safe haven for investors. With more tenants in the market than ever before, the demand for rental property is only expected to strengthen in the coming years.
The second city is also a safe haven for international investors. With Birmingham's steady demand for rental property and its exciting future, the city is a lucrative hotspot for investors – whether they're UK or international based. 
The incredible past performance of Birmingham property offers insight into what is yet to come in this thriving city. Over the last decade, Birmingham apartment prices have risen by 52.4% from £101,723 in 2013 to £155,033 in 2023 according to the House Price Index. This highlights the potential of a buy-to-let investment in the city, particularly as both long-term and short-term letting strategies are incredibly viable.
Birmingham Supply and Demand
Supply and demand are key indicators of investment success and are currently having a huge impact on Birmingham property prices.
Rising demand and an undersupply of property in the city has led to a very competitive market, which in turn has increased Birmingham property prices and Birmingham rental yields. Savills believe that there are 22,300 homes currently in the pipeline for construction which is undoubtedly a step forward in easing demand, but is not set to close the gap between supply and demand anytime soon. As such, investors in Birmingham property can be rest assured that their buy-to-let units will continue to accumulate interest on the market and achieve strong yields.
With a professional workforce of over 100,000, a huge student base and over one million people living in the region, there's no shortage of demand in Birmingham. Its growing population is one of the key drivers behind our Birmingham property price forecast, with research suggesting that to meet this incredible demand, 4,000 new homes each year will need to be delivered. However, for the past 10 years, the Birmingham property market has expanded by less than 1,000 new homes every year, highlighting a clear disparity in supply and demand and a clear investment opportunity.
Enticed by its low living costs and growing employment base, more and more tenants are flocking to rent Birmingham property, which has made the rental market extremely competitive. 
Birmingham Economic Forecast
In recent years, Birmingham's business district has welcomed a plethora of new businesses. Housing the likes of PwC, HSBC and Goldman Sachs, the city's business, finance and professional services industry is the biggest contributor to Birmingham's economy, which is currently valued at over £27 billion. This isn't to mention the BBC's move to Digbeth in time for 2026, which will certify the city as the one of the best places in the UK for creatives in the film and media industry.
Offering over 206,000 jobs to the local economy, the city's growing business district is a key incentive for professional workers relocating to Birmingham.
Additionally, the new Birmingham Central Framework 2040 is expected to bring 74,000 jobs and even more business opportunities to the region, thereby exacerbating demand even further.
Despite the growth in Birmingham property prices, the average salary to house price ratio is relatively low in comparison to other leading cities in the UK. For example, Bristol's ratio is sitting at 9.6 and every London borough surpasses 10, while Birmingham is considerably lower at 6.3. Indicating a significant difference in spending power, the higher salaries in Birmingham are not only enticing more young professionals to the second city, lower living costs (in comparison to London and Bristol) are allowing tenants to spend more on renting premium Birmingham property. 
Contemporary living will always remain a tenant priority, which promotes smarter, more economic lifestyles. As one of the most transparent cities in the world, the future of Birmingham is centred on transparency, with sustainability and smart technology at its core. This is, once again, outlined in the Central Birmingham Framework which aims to double green spaces across the city, push towards net zero carbon, and produce greener routes through the city core. Birmingham's vision truly excels when it comes to its sustainable efforts, and we anticipate this will produce greater investment opportunities for decades.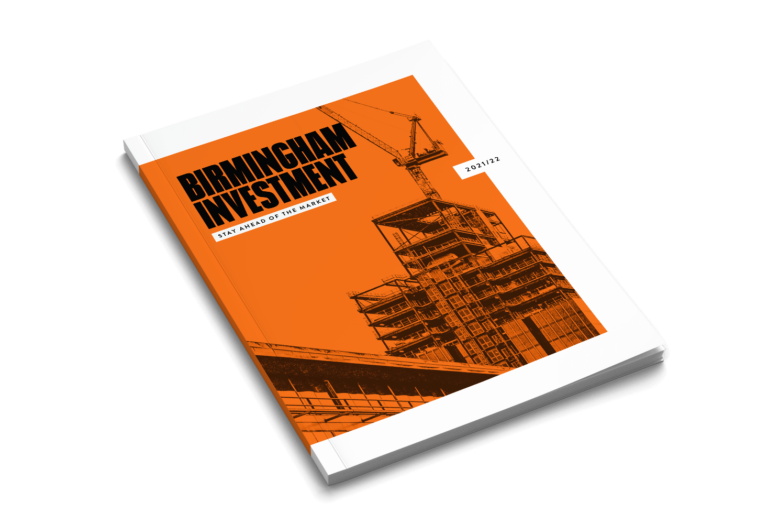 Download the 2024 Birmingham Investment Guide
Want to know more about the Birmingham property market for 2024? Download the Birmingham Investment Guide today and discover everything you need to know about Birmingham property investment in the new year. In this guide you'll find:
Current market performance
Forecasts for the Birmingham property market in 2024
Key trends impacting the market
Best places to invest in Birmingham in 2024
Download Guide
Birmingham Property Prices Since 2011
Over the last decade, Birmingham property prices have seen a consistent increase thanks to new development, new amenities and fast rising demand. Below you can see how property prices in Birmingham have changed between 2011 and 2022.
| | | |
| --- | --- | --- |
| Year | Avg. Price | Annual % Increase |
| 2011 | £133,496 | 1.2% |
| 2012 | £130,561 | -2.1% |
| 2013 | £132,248 | 1.29% |
| 2014 | £138,300 | 4.57% |
| 2015 | £144,496 | 4.48% |
| 2016 | £155,274 | 7.45% |
| 2017 | £167,885 | 8.12% |
| 2018 | £177,991 | 6.01% |
| 2019 | £188,356 | 5.82% |
| 2020 | £189,029 | 0.35% |
| 2021 | £199,771 | 5.68% |
| 2022 | £206,500 | 4.47% |