How Will New Developments in Birmingham Affect Property?
Birmingham – also known as the UK's second city – is one the most populated cities in the country. With forecasts anticipating a population of over 1,240,000 by 2030, Birmingham is expanding to meet the growing demands of its residents.
From fresh amenities to additional transport links, the new developments in Birmingham are working to transform the city into a connected hub of neighbourhoods and contemporary living solutions.
Not only are these new additions expected to catalyse up to 24.5% price growth by 2026, along with a 14% increase in the rental market, they will also continue to raise the profile of the second city. Attracting more residents to the West Midlands, these new developments in Birmingham will create a domino effect of property growth and additional regeneration across the city.
Featured Development
Lockside Wharf
Birmingham
Stunning Off-Plan Investment Opportunity
Off-plan apartments – estimated completion 2023
City-centre location just 3 minutes from Brindleyplace
Unique waterfront living in Birmingham
24.5% price growth expected by 2026 (JLL)
Top location for London leavers – forecasting yields above 5%
Lockside Wharf
Lockside Wharf is the latest addition to Birmingham's residential market. Conveniently situated between the City Centre and the Jewellery Quarter, this canal side development is set to redefine the standards of living in central Birmingham. 
A thoughtful restoration of the city's Victorian Glassworks, Lockside Wharf has striking features that honour the site's history and contemporary fixtures to meet the demands of Birmingham's youthful population. 
Comprising 61 apartments across the entire site, this brand new development will offer one-bedroom, two-bedroom and larger duplex apartments in the heart of the bustling city centre. 
Location is key with Lockside Wharf, and with a prime spot between two of the city's biggest neighbourhoods, this new development in Birmingham will be a welcome addition to the residential market.
Midlands Metro Westside Extension
Many of the new developments in Birmingham centre heavily on transport. Not only is Birmingham housing an integral station in the HS2 project, the Midlands Metro Extension is further building on the accessibility of the second city. 
The Midlands Metro Westside Extension comprises two distinct phases, which will eventually work towards transforming Birmingham into a 15-minute city. The first phase of this project – which connects Centenary Square and Birmingham Westside – completed in 2019 and laid the foundations for the second phase. 
The second phase of the Midlands Metro Extension is well underway, with the Broad Street tramline nearing completion and the Corporation Street lines in progress. However, this project aims to connect more than just the city centre. Upon completion, the West Midlands Metro will stop at Brindleyplace, Five Ways, Edgbaston and Hagley Road.
Paradise
Paradise is one of the most well-known new developments in Birmingham, which is not only enticing more global businesses to the city, it is also adding to Birmingham's unrivalled hospitality sector. 
This mixed-use development comprises several distinct phases, having already delivered numerous office spaces. Housing the likes of Mazars, PwC and Knights, Paradise continues to play a key part in expanding Birmingham's commercial district. 
With a forecasted completion date of 2028, Paradise will eventually be a hub for living, working and socialising. The final phases of this project will welcome a variety of new amenities, including restaurants, bars and a premium hotel – all at the heart of Birmingham's expanding business district.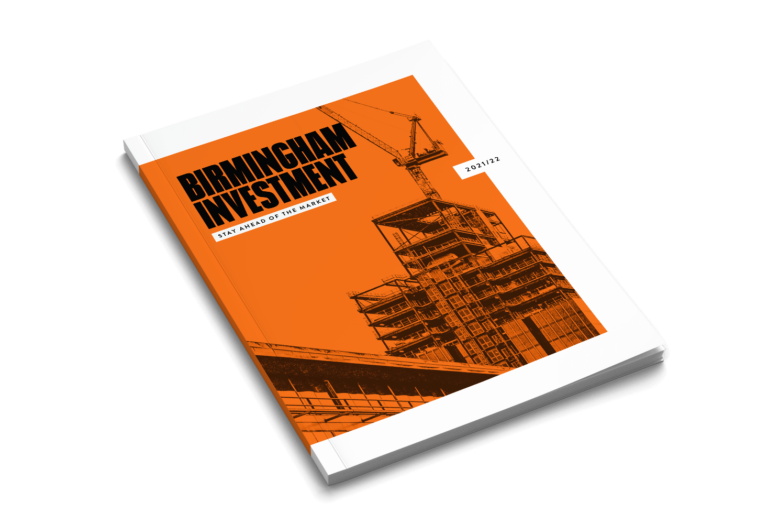 Download the 2022 Birmingham Investment Guide
Want to know more about the Birmingham property market for 2022? Download the Birmingham Investment Guide today and discover everything you need to know about Birmingham property investment in the new year. In this guide you'll find:
Current market performance
Forecasts for the Birmingham property market in 2022
Key trends impacting the market
Best places to invest in Birmingham in 2022
Download Guide
Birmingham Smithfield
Birmingham Smithfield has been coined a 'once-in-a-generation opportunity', with extensive plans of regenerating the city's most creative neighbourhood – Digbeth. Not only does this project intend to craft a new retail destination for Birmingham, it also has ambitious aims of positioning Digbeth as one of the UK's biggest hotspots for tourism, business and retail.
While this regeneration scheme will transform Digbeth, it will continue to pay homage to its distinct character. Over the years, Digbeth has become Birmingham's very own Camden Town, and with the addition of sustainable, unique developments, this investment plan will only build upon the neighbourhood's creativity.
This £1.9 billion joint venture is in the process of being finalised, with a forecasted completion date of 2037. Despite the length of this project, Birmingham Smithfield is expected to contribute over 100,000 new jobs to the city, as well as catalysing billions of pounds worth of investment into the local area.
Curzon Street Station
HS2 is the biggest transport scheme in the UK, and Birmingham will play an integral role in the overall project. Due for completion in 2029, the Curzon Street Station will shorten the commute between Birmingham and the capital to just 45 minutes. 
While the entire HS2 project will total around £1 billion, the wider Curzon Street Station Investment Plan will further regenerate surrounding areas to attract more transient tenants to Birmingham. Over the course of 30 years, this plan aims to deliver 34,000 new homes and around 36,000 new jobs, all of which will continue to boost the local economy. 
New Square Garden
The new developments in Birmingham spread far and wide, with the New Square Garden project set to regenerate Edgbaston and introduce a wealth of new additions to the city. This £330 million project will not only welcome new Grade A office spaces, it will transform Edgbaston into a mixed-used hub. 
With 392 build-to-rent apartments arriving in Edgbaston in the coming years, along with a wealth of new amenities, this elaborate regeneration scheme will be a mindful extension of the city centre. When combined with the Midlands Metro Westside Extension, Birmingham will be on its way to becoming an inter-connected hub of several unique neighbourhoods.