Why Choose Birmingham Property Investment?
Over the last five years, Birmingham has been the leading UK city for property price growth, beating all other UK cities since 2016.
The average property in the city has risen in value by 58% since 2011, highlighting the strength of regeneration projects and the new levels of demand for residential property in the city that have been building over the last decade.
Likewise, since Birmingham became the leading city for growth in 2016, prices have risen by £53,500 according to the House Price Index, while the average Birmingham rent has increased to £1,196.
Now, as the city continues to build new amenities and attract waves of new tenants, it's becoming easier to see why you should choose Birmingham property investment.
Featured Development
Lockside Wharf
Birmingham
Stunning Off-Plan Investment Opportunity
Off-plan apartments – estimated completion 2023
City-centre location just 3 minutes from Brindleyplace
Unique waterfront living in Birmingham
24.5% price growth expected by 2026 (JLL)
Top location for London leavers – forecasting yields above 5%
How Will Property Prices Impact Birmingham Property Investment in 2022?
With 24.5% price growth forecasted for the next four years, Birmingham property investment continues to be one of the most exciting opportunities in the country.
The opportunity for rental returns in the city also continues to hit new heights, with an expected 14% increase of rental prices by 2026 driving the potential of a property investment in Birmingham.
This is the second highest forecasted increase in England and according to JLL, Birmingham is expected to be the fastest growing city across all metrics.
According to our Birmingham property price forecast, the 24.5% increase by 2026 could translate to a Birmingham property investment rising in value by around £51,000.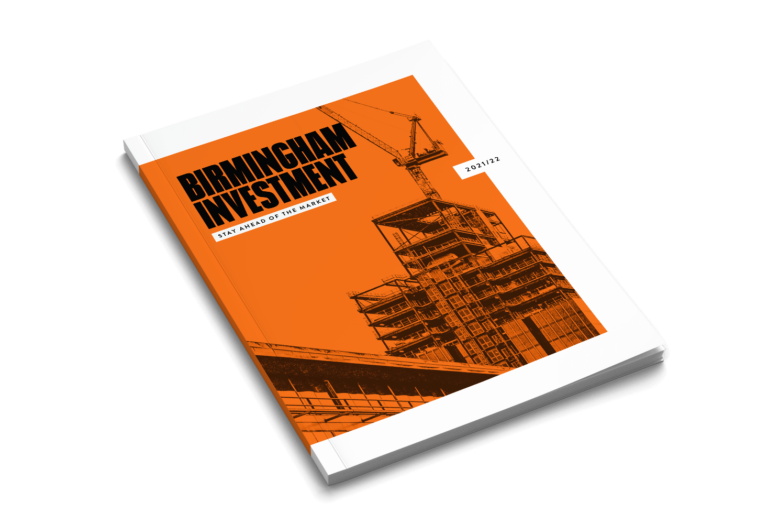 Download the 2022 Birmingham Investment Guide
Want to know more about the Birmingham property market for 2022? Download the Birmingham Investment Guide today and discover everything you need to know about Birmingham property investment in the new year. In this guide you'll find:
Current market performance
Forecasts for the Birmingham property market in 2022
Key trends impacting the market
Best places to invest in Birmingham in 2022
Download Guide
Is Birmingham a Good Place to Invest in Property?
With so many places to choose from, many buy-to-let investors ask us the question: is Birmingham a good place to invest in property?
Demand is always a key signpost for investment success and for Birmingham, it's no different. Birmingham buy-to-let properties are a popular asset because of the demand they consistently attract from a huge professional demographic.
Home to businesses such as Goldman Sachs, PwC and HSBC, nearly 100,000 professional workers operate in and around Birmingham, contributing to a wider population of 1.4 million people.
This has created an incredibly competitive rental market and helped boost rental prices by to unprecedented levels over the last five years.
At the same time, Birmingham is a young city – nearly 60% of the population is under-35. This demographic also makes up the majority of the local rental market, highlighting the demand for Birmingham property and the potential of a Birmingham property investment.
For people asking if Birmingham is a good place to invest in property, it's important to remember that this level of demand, coupled with 24% forecasted price growth, makes the second city a key buy-to-let location in the UK.
Read Our Birmingham Property News
How Has Redevelopment Impacted Birmingham Property Investment?
The Bullring represented the start of a much wider regeneration plan for Birmingham city-centre.
Officially named the 'Big City Plan', the program of redevelopment has delivered iconic landmarks including the Library of Birmingham, the Cube, Mailbox, Grand Central and more, building on the city's foundations to create a world-class infrastructure.
Going forward, developments such as Paradise and Arena Central will create exciting mixed-use spaces in the centre of the city, while projects such as HS2 and Birmingham Smithfield will drive connectivity.
These new amenities are attracting new residents, all of whom are potential tenants for Birmingham property investments.
This is especially true for those leaving London seeking more affordable rental properties – Birmingham has been the top city for London leavers sine 2018, when 7,800 people moved to Birmingham.
View Our Birmingham Investment Hubs

What is the Average Rental Yield in Birmingham?
How have rental yields in Birmingham changed over the last decade?
As the second city has come to the forefront, new amenities and incredible demand have helped to boost rental prices across Birmingham developments, driving up the average Birmingham rental yield.
Now, as more people consider Birmingham property investment, what is the average Birmingham rental yield and what postcodes are expected to perform the best going forward?
We've broken down the average Birmingham rental yield and what investors into the second city can expect to see within their own investment.
Read our full article on Birmingham rental yields in 2022 today.
Read the Full Article
Why invest in Birmingham property?
With so many different areas to choose from across the UK, why should you invest in Birmingham property? The second city has long been on an upward trajectory, which continues to be reflected in the property market.
Birmingham remains one of the most affordable cities in the country and as a result is producing high-yielding investment opportunities with exceptional growth potential. Over the last 20 years, £10 billion has been poured into the city, building a world-class infrastructure and the amenities to meet demand.
This has helped Birmingham property prices grow by almost 20% in the past 10 years. Now, with an expanding business distinct and a growing population, the opportunities for investors to benefit from both capital appreciation and rising rents continues to make buy-to-let properties in Birmingham a prime investment.
Will Birmingham house prices rise?
The property market across the West Midlands has been on an upward trajectory for the best part of 10 years and Birmingham property prices are only set to rise further.
According to JLL, property prices in the second city are on track to increase 24.5% by 2026, largely driven by a combination of ever-increasing demand and low supply.
Historically, Birmingham prices have risen by 57% over the last decade according to the Land Registry, while future forecasts suggest prices could rise by £50,000 over the next four.
This has put Birmingham property firmly at the top of many investor wish lists across the world, especially with the Commonwealth Games fast approaching.
What is rental demand like in Birmingham?
With several universities and endless graduate employment opportunities, Birmingham has a very young population. Sitting at 1,160,000 in total, research suggests that almost 50% of this entire population is under 29, while around 60% of the city's rental market is younger than 35.
Classed as 'Generation Rent', the growing presence of young professionals in the second city is increasing the demand for rental property. As the property ladder becomes less accessible for first-time buyers, almost one in three millennials are facing a lifetime in the rental market. Anchoring more tenants in the market than ever before, this is translating into a thriving demand for rental property in the UK's second city.
With forecasts suggesting that over 2,500 more homes would need to be built each year to satisfy this demand, it's no surprise that Birmingham is becoming a buy-to-let hotspot.
What businesses are in Birmingham?
Birmingham has the strongest economy outside of London, totalling over £24.8 billion. Not only did the number of businesses in Birmingham surpass 78,000 in 2020, the city's business, financial and professional services sector now contributes provides 206,200 jobs – around 21% of the total economy.
As a result, more global companies are now opening regional office spaces in the second city. Some of the most renowned names include:
HSBC
Deloitte
Mazars
KPMG
PwC
Goldman Sachs