City Centre
The city centre has long been hailed as one of the best places to live in Birmingham for young professionals. The two fundamental demands that it meets for this growing demographic? Connectivity with major UK destinations and a thriving business district offering exceptional career opportunities. 
In recent years, the city's business sector has built an impressive collection of global businesses, filled with leading finance giants. From HSBC, to Mazars and PwC, the increasing employment opportunities across the city's core will continue to rank this area amongst the best places to live in Birmingham.
As Birmingham City Council continues to build new amenities at the heart of the second city, the expansion of Centenary Square and the development of both Paradise and Arena Central will continue to attract new business and thus, new residents looking for new opportunities. 
Jewellery Quarter
The Jewellery Quarter is one of Birmingham's most iconic neighbourhoods, housing over 500 jewellery businesses across the entire district. Not only is the Jewellery Quarter steeped in heritage, but with over 200 listed buildings, the neighbourhood continues to draw more independent businesses to Birmingham.
From family-run eateries to independent pubs and cocktail bars, the Jewellery Quarter offers the best of both worlds just moments from the heart of the city-centre – an intimate, community feel with easy access to the heart of Birmingham. 
With this in mind, it's no surprise that it continues to be named amongst the best places to live in Birmingham for young professionals, especially those that are looking for a laid-back vibe and scenic landscapes without giving up access to the city-centre.
Related: Jewellery Quarter Property: The Most Desirable Postcode in Birmingham?
Digbeth
Coined the 'coolest neighbourhood in Britain' by the Sunday Times, Digbeth is quickly emerging as one of the best places to live in Birmingham because of how unique it is in relation to the wider city.
Often described as Birmingham's 'bohemian' district and compared to the likes of Camden and Shoreditch, Digbeth is home to independent shops, pubs and cinemas, all intertwined with a network of digitally savvy entrepreneurs. 
Anchored by the 'Custard Factory', a mixed-use development housing independent businesses and progressive digital businesses, Digbeth represents the young, progressive side of Birmingham.
This means it's incredibly popular with high-earning graduates or professionals that want the excitement of Digbeth's nightlife within walking distance of the many arts and media businesses in the neighbourhood.
Featured Development
Lockside Wharf
Birmingham
Stunning Off-Plan Investment Opportunity
Off-plan apartments – estimated completion 2023
City-centre location just 3 minutes from Brindleyplace
Unique waterfront living in Birmingham
24.5% price growth expected by 2026 (JLL)
Top location for London leavers – forecasting yields above 5%
Brindleyplace
Take a walk along Birmingham's picturesque canal network and you'll eventually find yourself in Brindleyplace, arguably the city's most desirable destination – brimming with lively bars and restaurants. Based solely on its affluence, amenities and waterfront views, Brindleyplace represents one of the best places to live in Birmingham.
As one of the 'newest' districts in the city, Brindleyplace was one of the first areas to experience extensive regeneration and long-term investment in the 'Big City Plan', developing it into one of the most affluent postcodes in the city.
Ideal for summer nights on the canal, the growing collection of international businesses, leisure hotspots and surrounding residential development makes it a unique destination for living, socialising and working. With the likes of Deloitte and Deutsche Bank opting for canalside office spaces, Brindleyplace is popular with Birmingham's top professionals.
Eastside
Acting as a major gateway into Birmingham, Eastside is primarily home to two of Birmingham's major educational institutions – Aston University and Birmingham City University. 
While these two universities have consistently attracted waves of students into the city, they're increasingly also contributing to a growing graduate pool – creating one of the best places to live in Birmingham for young professionals that stay to make the most of what the city can offer. 
At the same time, Eastside is undergoing an extensive regeneration scheme, an integral part of which is the UK's biggest transport project – HS2. Curzon Street Station will become a key part of the area and will be the primary hub for the train line, connecting London to the city in just 49 minutes.
With this in mind, it's not hard to imagine that Birmingham Eastside will become incredibly popular with London-bound commuters that want to be near key transport links. Similarly, this works in the opposite direction. London workers that want a cheaper living situation may see Birmingham – and by extension Eastside – as a more affordable alternative. 
Mailbox
While Mailbox Birmingham is a hugely popular retail destination, the surrounding area remains a popular place to live for those with a taste for the finer things in life. A hotspot amongst the city's biggest spenders, Mailbox is home to high-end brands including Harvey Nichols, Paul Smith and Calvin Klein as well as independent dining.
Within walking distance of New Street and Grand Central, Mailbox is a true city-centre district that represents the epitome of luxury, making it a popular living destination for the second city. 
With plenty of residential accommodation around the area, this has made Mailbox ideal for both short-term and long-term letting, especially with its central location.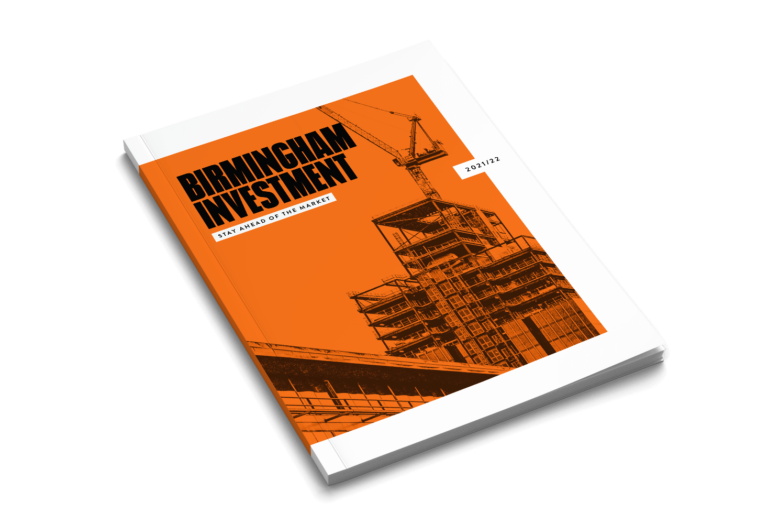 Download the 2022 Birmingham Investment Guide
Want to know more about the Birmingham property market for 2022? Download the Birmingham Investment Guide today and discover everything you need to know about Birmingham property investment in the new year. In this guide you'll find:
Current market performance
Forecasts for the Birmingham property market in 2022
Key trends impacting the market
Best places to invest in Birmingham in 2022
Download Guide
Moseley and Kings Heath
Notable suburbs in the South of Birmingham, Moseley and Kings Heath are arguably the best places to live in Birmingham for music lovers. As the city's musical hub, Moseley and Kings Heath are well known for hosting several music festivals, such as the iconic Moseley Folk Festival. 
After ranking above London's Muswell Hill, Mayfair and Blackheath, Moseley offers an attractive alternative to city-centre living with a selection of exciting pubs, restaurants and music venues.
Bournville
Known as Birmingham's garden suburb, Bourneville is regularly named one of the places to live in the city. Founded in 1900 by chocolate magnate John Cadbury, Bournville has flourished into not just a tourist destination for chocolate lovers but one of the best places to live in Birmingham. 
A quintessential British village, Bournville is in close proximity to some of the city's best schools and has excellent train links with New Street Station in the city-centre.
Described as a 'verdant suburb', Bournville is home to sprawling parks, expansive open spaces and a high-street that boasts the largest zero-waste supermarket in the UK – The Clean Kilo. 
While it's one of the more expensive suburbs of Birmingham, it's no surprise that Bournville is popular with families looking for somewhere a little quieter.
Related: What is the Most Desirable Property Type in Birmingham?
Solihull
A suburban spot on the outskirts of the city, Solihull has been referred to as 'one of the best places to live and work in England'. 
With a thriving evening economy full of theatres, cinemas and restaurants, this historic market town is amongst the best places to live in Birmingham for professionals that can afford the higher property prices, especially those looking for a quieter spot outside of the city's core. 
While Solihull is renowned for being a commuter haven, its amenities and employment opportunities are making this suburban spot more desirable for living, socialising and working. Housing global Birmingham-born brands such as Gymshark and Lounge, Solihull's profile has reached new heights in recent years.
Edgbaston
Edgbaston – one of the city's more affluent suburbs – has long been rivalling Solihull for top position of the best places to live in Birmingham outside the centre. 
Boasting the Birmingham Botanical Gardens and Edgbaston Cricket Ground, this thriving suburb is the perfect alternative for those seeking a quieter lifestyle but with the luxuries of Birmingham's city centre amenities just a short journey away. 
Harborne
A suburban village with a diverse high street, Harborne is a foodie's paradise, home to neighbourhood eateries including Harborne Kitchen, The Plough, Sabai Sabai and more.
Between an inviting atmosphere, plenty of exciting new leisure hotspots and stunning green spaces, Harborne is one of the more desirable postcodes in Birmingham for families or professionals that want a community-led, village feel.
The £12 million Harborne Pool and Fitness Centre is the newest addition to the area and features state-of-the-art leisure facilities if you're looking for a fitness class or fancy a dip in the pool.