Back to Articles
What is the Best Type of Property for Buy-to-Let Investments (With Examples)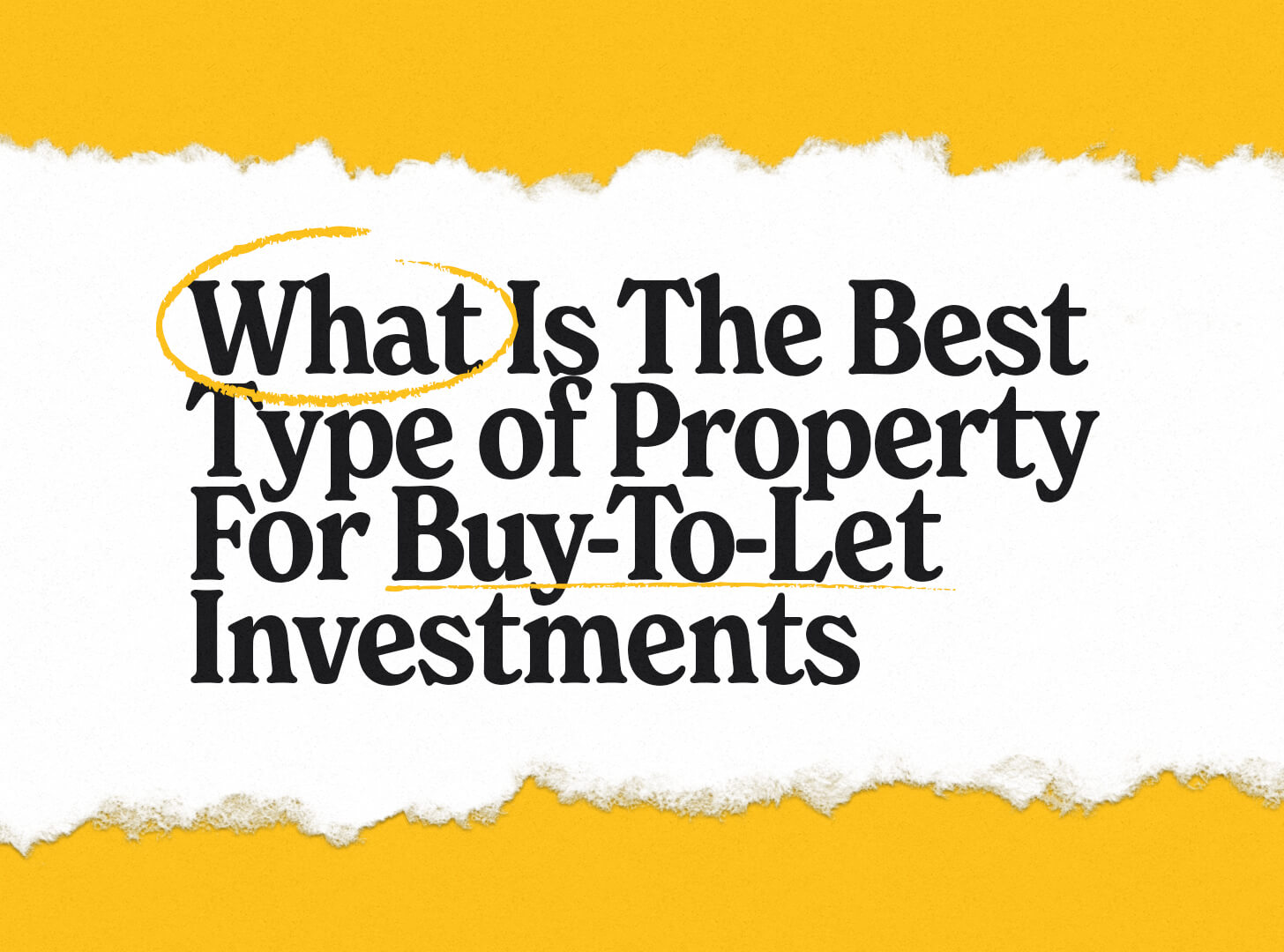 Whether you're a seasoned investor or a property enthusiast, you will know how important property types are to a portfolio. Different property types attract different demographics and are crucial for building a diverse portfolio, but what is the best type of property for buy-to-let investment?
With houses and apartments each coming with their own set of selling points, we're often asked – what is the best type of property for buy-to-let investments? This is especially true when you factor in different locales and how they can change the demand for different property types.
Purchasing a property is a big decision, so it's understandable that most investors want as much information on the local market as possible. Fundamentally, tenant demand is at the heart of any successful property investment and knowing the best type of property for buy-to-let investments is vital for maximising the success of a portfolio.
What types of property can you choose from?
When it comes to investing in buy-to-let property, one of the first decisions you'll need to make is choosing between houses and apartments. This is usually a very personal decision, which often depends on your financial goals and investment strategy – are you looking for short-term returns, or hoping for maximum growth in the long-term?
It's no secret that in comparison to houses, apartments generally offer much higher rental yields – especially those in city centre locations such as Birmingham in the UK. According to Joseph Mews research, houses in Birmingham average a rental yield of 4.42%, whereas apartments across the city are reaching almost 7% rental yields.
If you're looking to build a substantial pot of funds quickly through buy-to-let property, apartments in high demand areas of the city, including the Jewellery Quarter and the centre, are often the best type of property to rent out in Birmingham, largely due to the city's popularity amongst 'Generation Rent'.
That said, when it comes to capital growth, houses remain a clear alternative to apartments. Savills research suggests that while apartments continue to outpace their counterparts, the difference between long-term capital appreciation is just 9%. Generally, apartments have increased by around 256% in price over a 20-year period, whereas house prices typically grew by 245% in the same time.
Here you should also consider the demographic of renters you're targeting. If you're looking to target students, a common option is to opt for larger houses that can be used as a HMO investment, while city-centre apartments are better suited to young professional couples.
Related: What Do UK Tenants Really Look For in a Rental Property?
Does size matter?
Knowing the best type of property to invest in for you is the first step, but regardless of whether you've decided on a house or an apartment, you'll need to consider how many bedrooms you want to go for.
At a glance, this decision may seem fairly straightforward, but much like the apartments vs houses debate as a whole, the size of the property influences various other factors.
For example, properties with numerous bedrooms tend to attract families, whereas one- and two-bedroom apartments are increasingly popular amongst young professionals and couples.
The English Private Landlord Survey has revealed that couples aged 25-49 are the biggest demographic of renters in the market and stay in rented homes for at least three years.
As such a large segment of the rental market, this may influence your decision to invest in a two-bedroom apartment in the city-centre, giving you the ideal property to directly target couples.
In Joseph Mews research, we've found that overall studio apartments tend to deliver the best rental yields but make up only 4% of our sample size.
On the other hand, one-bedroom apartments make up 31% of the stock distribution and deliver the second best average yield at 5.41%.
This is closely followed by two-bedroom apartments that deliver yields of 5.26% and make up 42% of the wider market.

Best type of property for buy-to-let investment by yield, rents and stock distribution
Below you can find a breakdown of how different property types perform in relation to yield, rents and stock distribution, based on our own research into the UK property market:
Rents
Studio: £809
One-Bed: £891
Two-Bed: £1,214
Three-Bed: £1,576
Yields
Studio: 7.33%
One-Bed: 5.41%
Two-Bed: 5.26%
Three-Bed: 4.96%
Market Distribution
Studio: 4%
One-Bed: 31%
Two-Bed: 42%
Three-Bed: 15%
Other: 8%
What features do the best properties for buy-to-let investment share?
When you're looking to identify the best type of property for buy-to-let investment, there's some common threads that you should be looking for.
Jobs Market: Investment areas that have more jobs (or higher-paying roles) are more likely to rent. A healthy jobs market attracts tenants and can help mitigate void periods. This is why you might see the housing market rise with the announcement of a major company moving to the area.
Amenities: Having a good mix of amenities near the property will make sure that tenants are looked after. In this case, amenities could be anything from green spaces to local bars and restaurants. It can always be a good idea to take a tour of the local area, whether that's in person or via an internet search.
Area Demand: What is the tenant demand in your area? If you're buying near a university, chances are that you'll have plenty of rental enquiries from students. Similarly, if you're investing in a city-centre near large offices, you might find that you'll get interest from working professionals. Choose depending on your strategy.
Rental Performance: How are the rental yields in the location around your buy-to-let investment? Rental income is your most important resource so you need to make sure that it can cover your mortgage payments. At the same time, think long-term. Where are rental prices heading in the future?
Future Development: Otherwise known as regeneration, what are the plans for the location you're investing in? If there's plenty of new redevelopment, it's likely you're investing in a growth area. Likewise, if a train station is due to be built in the next year, you know that your property will likely be in higher demand.
Related: Top 10 Features of a Profitable Rental Property
Read our example: The Birmingham rental market
Examining a case study is an easy way to understand the best type of property for a buy-to-let investment.
As part of our research, we're looking at the Birmingham rental market.
With the younger generation continuing to dominate the rental market, it's no surprise that 60% of renters in Birmingham city centre are under-35.
Birmingham has long been a destination for young professionals, and as a key demographic in the city's rental market, their preferred property type and size should be at the forefront of investors' minds.
While renters are getting increasingly younger and are staying in the market for much longer, the city's 1.8 occupancy rate reinforces the trend of co-living. Whether people are renting as a couple or sharing with friends, this continues to highlight why apartments are often the best property type to invest in, especially in Birmingham.
Naturally, the co-living trend has increased the potential of bigger apartments in the city. With the demand for more spacious homes, these renters are now attracted more to two-bedroom apartments.
The rising demand for two-bedroom apartments in Birmingham has seen this property type achieve considerably higher yields – on average – than their one-bedroom counterparts. As a result, the English Private Landlord Survey has revealed that almost 50% of landlords rent their buy-to-let properties to couples.
Generally speaking, landlords have a preference towards this demographic, which has been influenced by a number of different factors. As well as making up over half of Birmingham's rental market, couples tend to have a higher household income and thus, are willing to spend more on rent.
Combined with their increasing time in the rental market, it's no surprise that two-bedroom apartments are considered the best property type to invest in amongst the majority of property experts and landlords.
The popularity of two-bedroom apartments in Birmingham
Two-bedroom apartments have long been one of the best performing properties in the rental market with competitive rents and growing yields. Research by Upad has found that this extra bedroom can often push rental yields past 5%, which when compared to smaller alternatives, is notable.
Birmingham's affordability has long been a key driver behind both the popularity of this property type and their continued success in the local market. For example, at the time of writing, Birmingham's average property price is sitting at just £206,500, unlike London's £649,941.
While property still remains relatively affordable in comparison to other UK cities, research by Home suggests that the average rental income for a two-bedroom property in Birmingham is over £1,000, making it one of the best types of property to rent out in the city.
Related: The Best Places to Live in Birmingham
When it comes to investing in property, there isn't a 'one size fits all approach'. The various decisions that emerge along the way, including property types and the number of bedrooms, have the potential to make or break a property portfolio.
That said, with the likes of Birmingham housing a growing demographic of young professionals, certain properties – such as two-bedroom apartments – are becoming the best types of property to invest in.
Offering more space and more luxuries, this property type is not only yielding some of the highest rents in the market, but is becoming increasingly more demanded by both tenants and investors.