Back to Articles
5 Reasons To Invest In Shrewsbury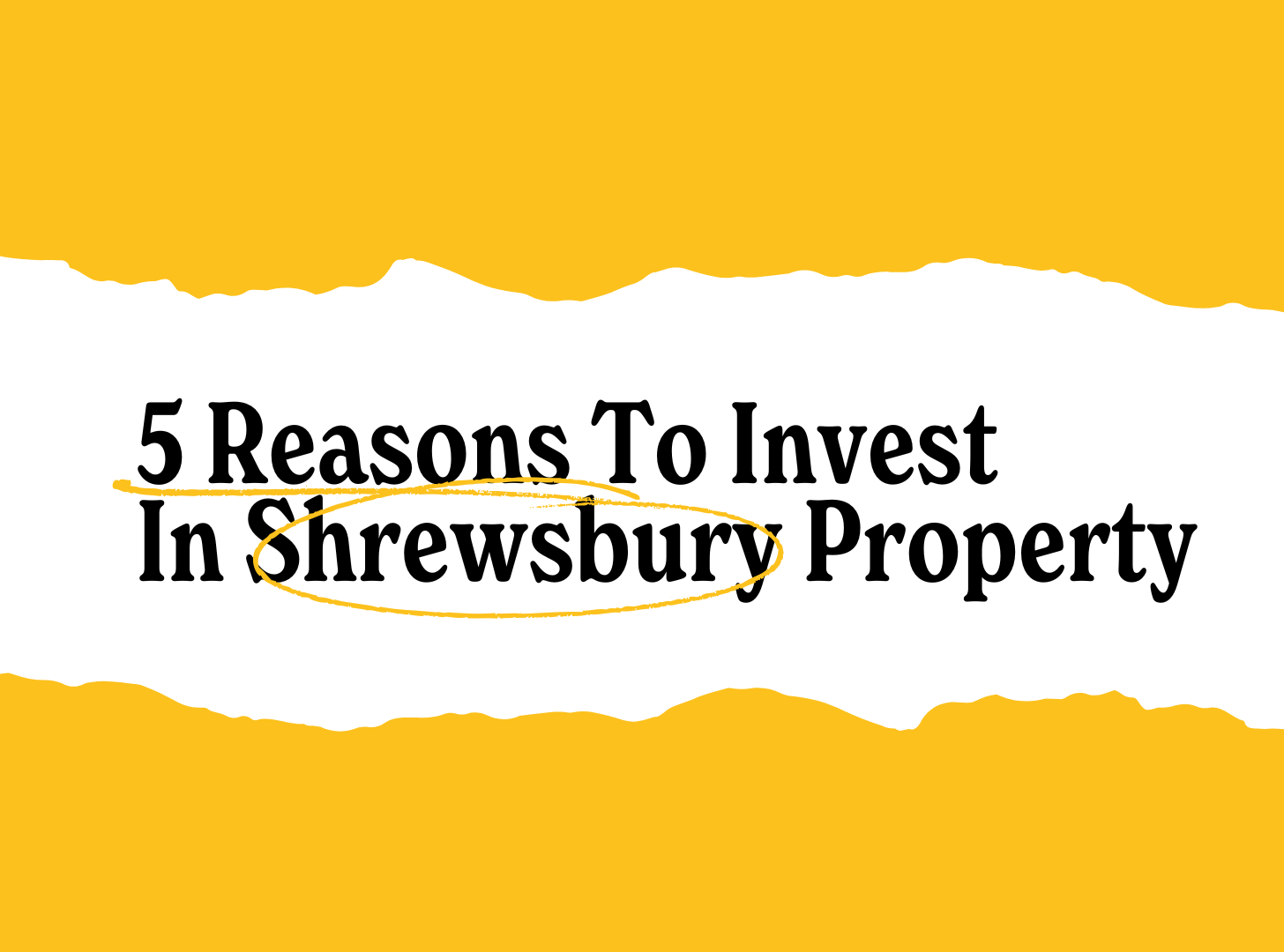 Shrewsbury is a thriving, historic town with plenty to offer investors – from impressive regeneration plans, to fantastic property prices and ample job opportunities across a variety of sectors, there are plenty of reasons to invest in Shrewsbury. Here are our top five:
Shrewsbury Big Town Plan
There are exciting plans for regeneration across Shrewsbury, bringing more people, more businesses and more opportunities to the town and broader region.
Those looking to invest in an up and coming town with a bright future should look no further than Shrewsbury. The town's ambitious 'Big Town Plan' is set to regenerate Shrewsbury – and broader Shropshire – significantly, through the construction of multiple mixed-use developments. This is set to provide more commercial space for businesses, making Shrewsbury a key destination for new and established companies to set up storefronts and business hubs. To mitigate the influx of new residents these businesses will surely bring to the region, these mixed-use developments will include hundreds of new residential units. The Abbey Foregate area has the potential to hold 500 more residential units and 25,000 sq.ft. of commercial space, and the Northern Corridor has the potential to create 770 new homes and 120,000 sq.ft. of commercial office space. Not only will this fuel the local economy, but the Big Town Plan will fuel demand for buy-to-let units in Shrewsbury, making it a fantastic place for investors to consider.
Job Opportunities
Shrewsbury is home to plenty of thriving businesses across a variety of sectors, appealing to a broad range of potential tenants.
Despite being a relatively small town of less than 100,000 residents, Shrewsbury is home to a range of business hubs – from EON to Santander, Severn Trent to Capgemini, Shrewsbury is a fantastic place to establish a career. In fact, between 2017 and 2021 Shropshire attracted £325 million in commercial investment, which has created thousands of jobs and surpassed the region's investment goals by over 10%. With existing and upcoming business sites at Greenhills, Shrewsbury Business Park, the Sustainable Urban Extension Zones, and Flaxmill Maltings, job opportunities in Shrewsbury are abundant. There are also ample opportunities to work for independent businesses in Shrewsbury, with the town having a vast range of establishments you simply won't find anywhere else, making it a wonderful place for start-ups.
A Perfect Place For Families
With some of the best educational facilities in the country, Shrewsbury is a fantastic place for families to call home.
Although Shrewsbury is home to a broad range of residents, the town is an especially wonderful place for families. With some of the most esteemed educational establishments in the UK (one of which was attended by Charles Darwin), a range of private and public school options, and further education facilities at the University Centre Shrewsbury, the town offers young people all of the opportunities they need to thrive. Families will also undoubtedly enjoy the abundance of scenic and historical days out across Shrewsbury – from the Theatre Seven, to the town's own art gallery, castle and Abbey, the opportunities for days out are endless. Residents of all ages are also able to enjoy some of the most beautifully preserved green spaces in the country, namely Attingham Park and Quarry Park, the latter of which overlooks the scenic River Severn. These features make Shrewsbury a wonderful place for families to call home and will surely attract tenants looking for a slice of idyllic English living.
Reasonable Property Prices
Whether you're a first time investor or want to diversify your property portfolio, Shrewsbury offers great options for any budget.
Property investment is an expensive commitment, with many towns and cities being unattainable for investors with more moderate budgets. Properties in the South of England, and in major cities across the country, can be financially inaccessible for many – however, properties in county towns such as Shrewsbury make a fantastic option for those looking to try their hand at investment or diversify their portfolio away from solely city properties.
Properties in Shrewsbury are far more affordable to purchase for your property portfolio than those in traditionally competitive property hotspots – according to data from Zoopla, flats in Shrewsbury cost an average of £167,200 compared to £172,559 in Manchester, terraced homes cost £212,529 which is cheaper than Birmingham, and detached houses cost £418,462 which is far less expensive than main cities in the midlands such as Worcester, Coventry and Birmingham. So, if you're looking to diversify your property portfolio away from busy cities and save yourself some money on purchasing costs, Shrewsbury is a great option to consider.
Well Connected
Shrewsbury is a beautiful place in its own right, but it is also perfectly situated as a commuter town.
When it comes to investing in the right property, it is imperative that your unit is within close proximity to key amenities. Thankfully for those looking to invest in Shrewsbury, the town is an ideal location for commuters – it sits neatly between Manchester and Birmingham, with both of these cities being accessible via Shrewsbury's town centre train station. Those who wish to commute via road can use the nearby A5 to reach Telford or neighbouring Wales, and the M54 and adjoining M6 are easily accessible which allows commuters unrivalled access to the rest of the country.
Ready To Invest In Shrewsbury?
If you are considering expanding your existing property portfolio or want to take your first step towards investing in real estate, Shrewsbury should certainly be on your radar. For further guidance on how to begin your investment journey with Joseph Mews, or for additional information on the Shrewsbury property market, get in touch today or explore our available units here.