Back to Articles
5 Reasons To Invest In Bradford Property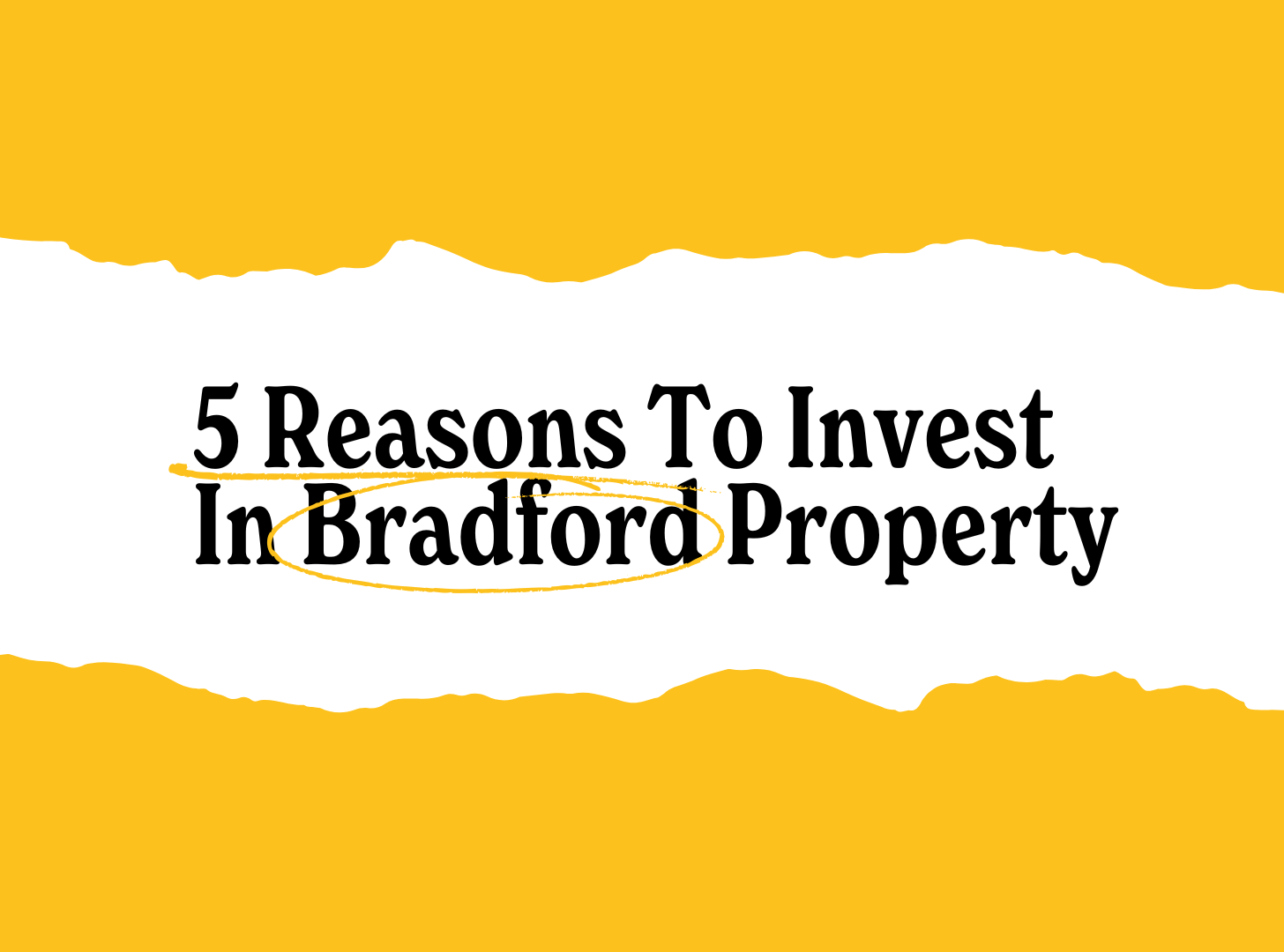 If you're looking to get started in property investment or perhaps expand an existing portfolio, Bradford should definitely be on your radar. The Northern city is experiencing a remarkable level of investment and regeneration, has just been named 2025 City of Culture, and its title as the youngest city in Europe makes rental demand in the city immensely reliable and sustainable. Still not convinced? Here are five reasons why you should consider investing in Bradford…
Bradford's Bustling Business Landscape
Bradford has an impressively strong economy worth £11.6 billion, making it prime real estate for large businesses. £1 Billion worth of funding was recently channelled into regeneration projects in the city, with many more in the pipeline, attracting investors, employers and tenants alike. Bradford is home to acclaimed businesses such as Morrisons, Jet2 and Hallmark Cards, with companies based in the city employing over a quarter of a million people, making the city the epicentre for many industry-leading businesses. Global giants aren't the only businesses that call Bradford home, and with Barclays Bank SME Growth Factors stating that Bradford is the single best place to start a business in the entire UK, the city is fast becoming an important hub for technological innovation, engineering and manufacturing.
Bradford Council isn't only willing to invest in its businesses, but its people too, with a goal to get 20,000 more people into stable work, and improve the skill set of the overall population. This is reflected in the impressive accolades of Bradford University, which is number one in the UK for promoting social mobility. In short, Bradford Council is working tirelessly to enrich the lives of its inhabitants, funded by its booming economy, and make the city an exciting place to live and work.
Regional Regeneration
The primary scheme that is underway to regenerate Bradford is the BCCAAP, or Bradford City Centre Area Action Plan, which focuses on improving the reputation of the city and increasing its number of available properties in order to meet anticipated demand. The plan outlines areas to boost housing provision, including 200 homes near the Garden of Tranquility in the North of the city, as well as care homes and sheltered accommodation. The commercial property sector is also set to receive an injection, with projects such as One City Park providing ample Grade A office space in the North that is modern, reasonably priced and impressive for staff and clients alike. Such provisions will not only cater for the housing supply sorely needed in Bradford, but the motivation for commercial businesses to relocate to the North, providing a long-term economic boost to the city. This £80 million investment has already resulted in soaring demand for property across Bradford, with Zoopla reporting that interest in neighbourhoods such as Bingley, Saltaire and Skipton have accumulated some of the most searches in the UK, beating UK average searches by 98 per cent.
A number of new developments have already been completed in Bradford, namely the Broadway Shopping Centre which has created over 2,500 jobs for locals across its 75 stores. This solidifies the city's status as a key shopping destination to rival nearby Leeds. The city will also experience renovation and improvement of existing structures, such as Odsal Stadium, which will see £50 million worth of regeneration in the form of a new roof, solar farm and hotel to ensure it stands the test of time. For live acts and sports events, Bradford will become a top option, funnelling further growth into the region and firmly placing the city on the map.
Northern Powerhouse Rail
Speaking of regeneration, the colloquially coined 'HS3', Northern Powerhouse Rail plans to connect key towns and cities in the North and is the region's single largest investment into transport since the advent of the industrial revolution. The project aims to alleviate the issues surrounding transportation across the North of England, with it currently taking less time to get from Manchester to Paris than from the North East to the North West. Northern Powerhouse Rail aims to improve infrastructure and connectivity and make the North a far more appealing place to live and work. Bradford sits at the centre of the project and will see journeys to Leeds reduced from 20 minutes to 10 minutes, and the commute to Manchester cut to just 20 minutes, a huge reduction from the 1 hour plus it currently takes to travel between the two cities. This will make Bradford an increasingly attractive place to live for those working in Leeds and Manchester, with its affordability and connectivity opening the city up to a whole new audience.
Paired with existing transport infrastructure plans to implement better roads between key areas of growth in the North, and the Leeds Bradford Airport which sits just 6 miles from Bradford City Centre, these projects are set to bring more people, more jobs and more opportunities into Bradford and its surrounding towns and cities, making it an exceptional place to invest.
Property Price Growth
Past
Bradford's local economy grew by 16 per cent between 2014 and 2019, which had a significant impact on the city's housing market. From mid-2016, the trajectory of house prices in the region started to increase, with detached properties performing particularly well. The property market was even able to weather the storm of the pandemic, with 2020 being particularly buoyant, demonstrating the resilience of the Bradford market and appeal to investors.
Another catalyst for growth in the city can be seen through the lens of waning supply, but consistent demand: an analysis of available properties in Bradford demonstrates that housing supply across the city has more than halved since 2007, making competition for Bradford property increasingly fierce. This certainly bodes well for investors, with such disparity between supply and demand making properties more desirable across Bradford for purchasers and tenants alike.
Future
So, what does the future hold for the Bradford property market? With the city's economy set to grow by a further 25% over the next decade, the region is likely to become a prime location for investors. Even better, recent predictions regarding Bradford's population suggest that the city is set to experience a 10 per cent increase over the next two decades, further fuelling demand for properties. As a result of this predicted growth, industry experts have predicted as much as a doubling of property prices in the coming years based on their hands-on experience of market trends, with Bradford providing a viable alternative for investors to London's extortionate prices and Manchester's oversupply.
Lifestyle and Culture
Bradford has a population of over half a million, making it the fourth largest metropolitan authority in England and is also the youngest city in Europe, with 29% of its population under 20. This makes demand for rental properties exceptionally high, as young people are far more likely to rent than buy. With Bradford University becoming an increasingly popular destination for new, innovative courses, and having an alumni network of over 140,000, Bradford is full of youth and vibrancy to rival cities such as Birmingham and Manchester.
What's more, the city is home to an abundance of different cultures, with over one-third of the population being ethnic minorities, and 160 languages being spoken. It's no shock that the city has been chosen as the UK's 2025 City of Culture, placing Bradford firmly on the map as a hub for creativity, arts and diversity, which is sure to generate interest and attract those seeking a new, exciting investment location. Bradford is buzzing with exciting nightlife, restaurants and bars that make it a haven for residents. From a variety of pubs and eateries, to Bradford Playhouse for a night of comedy and theatre, to more lively club venues such as Envy or The Underground, there's something for everyone! For those looking to spend their leisure time in a more family-friendly environment, the Peak District is a mere 20 miles from the centre of the city, and the Yorkshire Dales are even closer. In summary, there is no shortage of options or opportunities for all demographics in Bradford
Are you ready to explore the Bradford property market?
Joseph Mews is proud to be a trusted authority on Bradford property, and we are here to help you explore your options to find your best investment yet. Find out more about our latest Bradford investment opportunities here.