Back to Articles
How to Invest in Property With Joseph Mews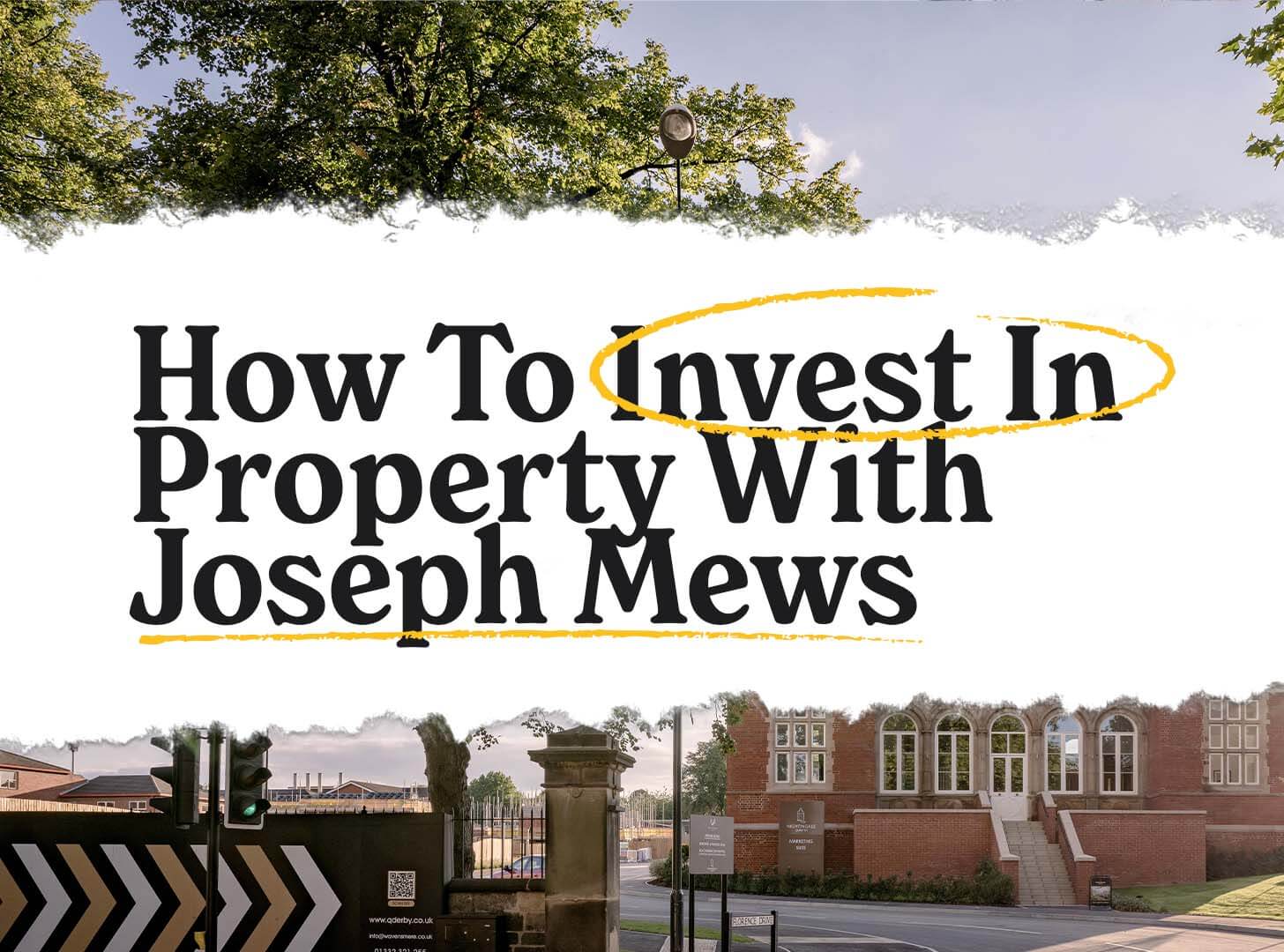 When you're looking to invest in property, it's understandable that you'll want to know as much as you can about the process and more importantly, the company itself. Each industry tends to come with a 'standard' of what to expect from the investment process, but what about the finer details? 
Here at Joseph Mews, we pride ourselves on being one of the leading UK property investment companies in the industry, and believe transparency is crucial, to both our investors and our developers. 
How Does the Investment Process Work?
We pride ourselves on offering investors a full 360-degree service, supporting our clients with choosing a location, development and unit based on their financial goals, as well as offering continued assistance after the property has been handed over. 
When do you pay?
When you invest in property with Joseph Mews, payments are made in several stages. Once you've chosen your unit, you'll need to pay a fee to secure it – this is known as the reservation fee. Once this fee has been paid, your specific unit will be taken off the market and you'll have 28 days to 'exchange' on the property. 
Upon exchange, you will need to pay the deposit for the property – which is typically around 20 – 25% of the entire price (minus the reservation fee). We specialise in off-plan property at Joseph Mews, meaning the deposit is the last payment you'll need to make until the development completes. 
This means you'll have the remaining build period to either raise the capital for the outstanding amount (if it's a cash investment), or to apply for your mortgage. Once the property has completed, your mortgage repayments will begin (if you have one) and you'll also need to pay Stamp Duty Land Tax. 
Related: What is Stamp Duty Land Tax?
When do you exchange?
You officially exchange on the property once you have signed the necessary contracts and your deposit has been paid. While this may differ between investment companies and developers, we give investors 28 days from the day their reservation fee is taken to pay their deposit. 
If 28 days pass and the investor is yet to exchange on the property, the reservation fee will be held for a future investment and can also be transferred to a different development/unit.  
What's 'completion'?
Across the UK property market, completion tends to remain the same. Due to the nature of off-plan property, completion is reached when the development has finished being built and the keys have been handed over.
At this point, the unit is usually ready to be rented out to tenants and mortgage repayments will begin. 
How Does the Solicitor Process Work?
The solicitor process varies between industries and properties, meaning the following example is specific to the off-plan market.
When you come to pay your reservation fee, you will also be presented with a reservation form. Here, you'll have the opportunity to choose a solicitor from our panel of experts or, provide us with the details of your own solicitor, along with your ID. 
Once this has been completed and the reservation fee has been paid, our new business processing team will notify your solicitor and send over your Memorandum of Sale, which holds specific details about your property. 
To get the process moving, you will have to officially instruct your solicitor. To do so, you will be required to return your completed instruction paperwork, and provide certified ID and proof of address. While this process usually only takes an hour or two to complete, it's important to leave yourself plenty of time – afterall, you only have 28 days to exchange.
At this point, initial documents will be prepared and you will have officially instructed your solicitor, meaning they will have this remaining period (from the day the reservation fee was taken) to begin and complete the legal processes ready for exchange. 
Here, you should expect your solicitor to get in touch for some vital paperwork, including your source of funds. Providing your source of funds is crucial for anti-money laundering regulations, and without this, you won't be able to legally exchange on the property.
For cash investors specifically, this will be one of two occasions you'll need to provide a source of funds – once for the deposit and another upon completion. Either way, it's crucial for all investors to be prepared for this stage, especially since you're required to demonstrate your income sources over the last six-months.
In the meantime, your solicitor will also be carrying out a number of different 'searches'. The three searches that are conducted include drainage, land and local. These searches are general housekeeping and ensure things will work the way they're supposed to, the land isn't contaminated and there aren't any future construction plans that could impact your property and the wider development. 
Once the searches are complete and the solicitor has everything they need, they will report back with the contracts. At this point, there's only two things left to do – transfer your deposit funds to your solicitor and sign the contracts/essential paperwork. Signing the contracts means the 'legal exchange' will be completed and your solicitor will then pay us, Joseph Mews, the deposit, which means your solicitor must have your funds the day before this can happen.  
What to Expect After a Handover
When it comes to off-plan property, 'handover' refers to the handing over of keys. At this point, you will be put in touch with our aftercare team where you'll have the opportunity to view the completed property and voice any concerns. 
You'll also be made familiar with our warranties, which include a 10-year build warranty and a two year warranty for the apartment's appliances, such as the dishwasher, washing machine etc. 
Here, you'll also be introduced to the Information Hub, where you'll be able to access information about your apartment and will be able to report any issues you or your tenants have.
How Do I Let My Property?
When your property is six to eight months from completion, you'll need to start thinking about the lettings process. At Joseph Mews, we have a selection of trusted letting agents, such as Martin and Co, who we recommend to clients based on their past performance, reputation and quality of services. 
You will want to begin looking for a tenant roughly one or two months before the property completes so you can aim to have a tenant in as soon as possible, upon completion, which means you'll minimise the chances of void periods. 
Alternatively, you can source your own letting agent (if you plan on using one), but we still recommend thinking about this before the property completes. 
It's understandable that when you invest in property, you'll want to know the whats, wheres and whens of the investment process. Each and every process changes depending on the asset and the company, but at Joseph Mews, we support our clients as much as we can from start to finish, and that's what makes us a leading UK property investment company.
Ready to invest with us? Get in touch with Joseph Mews and let us help you invest in property today.