Back to Articles
Lockside Wharf Wins Three Prestigious Property Awards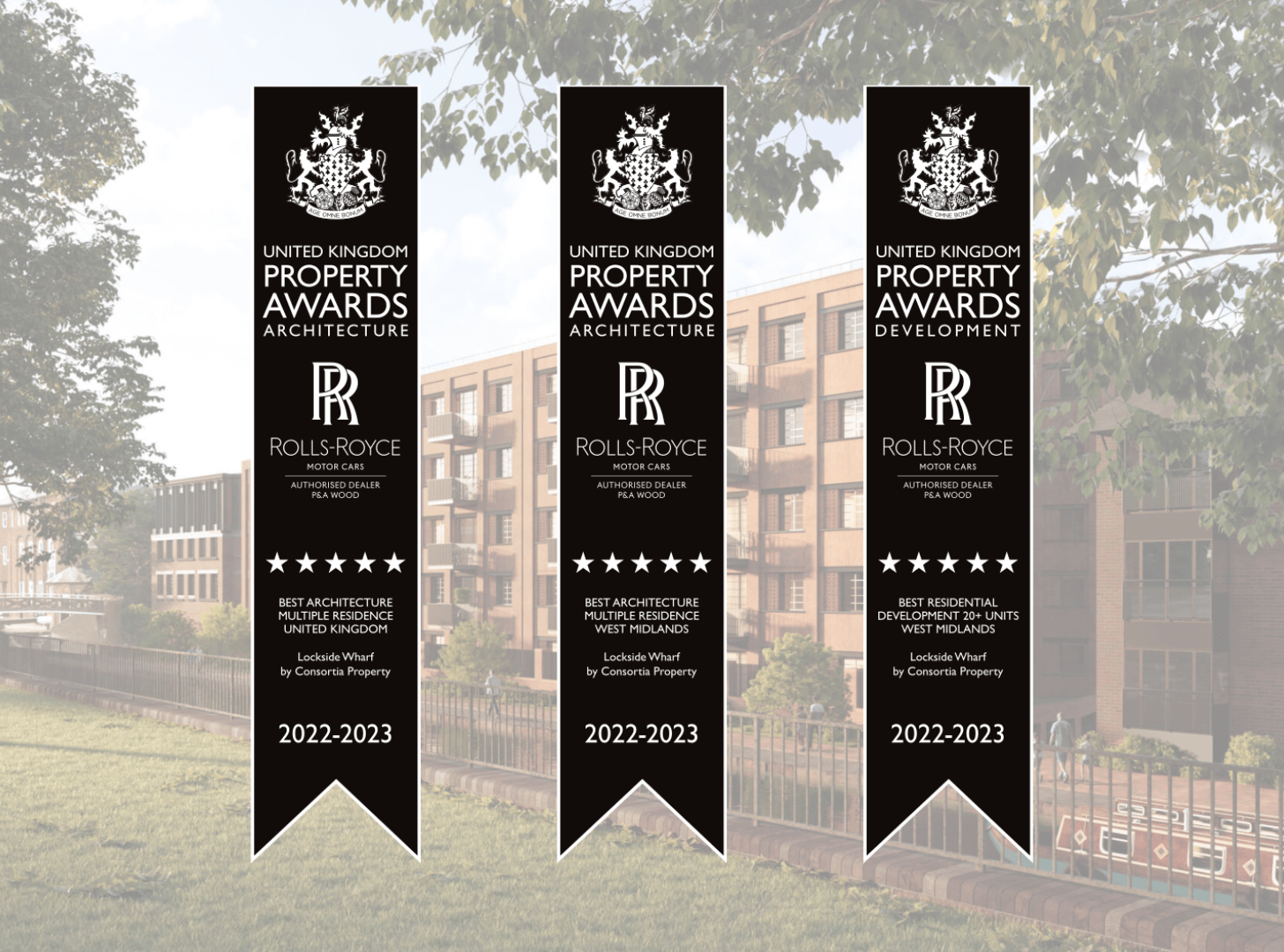 Birmingham property development, Lockside Wharf, has won three awards at the prestigious International Property Awards. The development won 'Best Architecture Multiple Residence United Kingdom', 'Best Architecture Multiple Residence West Midlands' and 'Best Residential Development 20+ Units West Midlands', as well as being nominated for 'Best Architecture Multiple Residence Europe'.
Developed by Consortia Property and distributed by Joseph Mews Property Group, Lockside Wharf sold out in August this year – a full 12 months ahead of its planned completion, demonstrating its popularity with both investors and homebuyers.
Speaking on the impressive win, Oliver Clayton, partner at Consortia Property said:
"We're incredibly proud to have won these awards for Lockside Wharf. When planning the project, it was important to us to respectfully restore the original building and bring something special to the Birmingham market, so it feels great that this has been recognised. We can't wait to see the finished project and welcome residents into the development, and we're looking forward to working on our next Birmingham project with Joseph Mews which is launching over the coming weeks".
The Joseph Mews team have extensive experience within the Birmingham property market and will continue their exclusive partnership with Consortia Property on the launch of a brand-new project also in the Jewellery Quarter.
Property experts JLL suggest that Birmingham property will see 19.2% price growth and 19.3% rental growth by 2027, which this new launch will coincide with.
This bodes well for sales at the new development, which both Consortia and Joseph Mews believe can replicate Lockside Wharf's success.
Johnny Conran, Partner at Joseph Mews commented:
"We are incredibly proud to announce that one of our developer partners, Consortia Property, have won three awards for their development Lockside Wharf in Birmingham.
"Joseph Mews works exclusively as the distribution partner for Consortia Property, and we sold out Lockside Wharf's 61 units during the summer of 2022, a year ahead of expected completion. This was a fantastic success for our partnership and the awards illustrate the huge potential our clients saw when making their decision to invest in this wonderful development.
"In order to achieve your investment goals, whether it be for retirement, for future wealth and support for your family or for passive income for the future, you need to make sure you're investing in developments in the best locations and of the best quality that will 'stand the test of time'. We believe that Consortia Property's developments truly will.
"Well done to Consortia and to everyone involved. We look forward to winning more awards together in the future."
As Consortia Property's exclusive distribution channel and having handed over more than 6,500 residential units across the UK, Joseph Mews will be launching Jewellery Quarter development, The Colmore on St Paul's Square, later this month. The development consists of 16 apartments in a Grade II listed restored jewellery workshop, and like Lockside Wharf, will maintain many of its original features, whilst creating a luxurious addition to Birmingham's residential landscape. Andrew Segal, Partner at Joseph Mews said:
"As a promoter rather than a property agent, Joseph Mews works on an exclusive basis with hand-picked developers. Whilst we are responsible for sales and marketing, we also manage all the client facing processes and ensure our investors have a hassle-free experience from reservation to handover and beyond.
"We have successfully delivered over 6,500 residential apartments over the last 11 years in Birmingham, Bicester, Liverpool, and the London commuter belt, and we're really excited to work with Consortia Property to bring The Colmore to market, after the resounding success of Lockside Wharf"
Be the first to invest in The Colmore on St Paul's Square – Register your interest here