Back to Articles
Apartments at Lockside Wharf have officially sold out!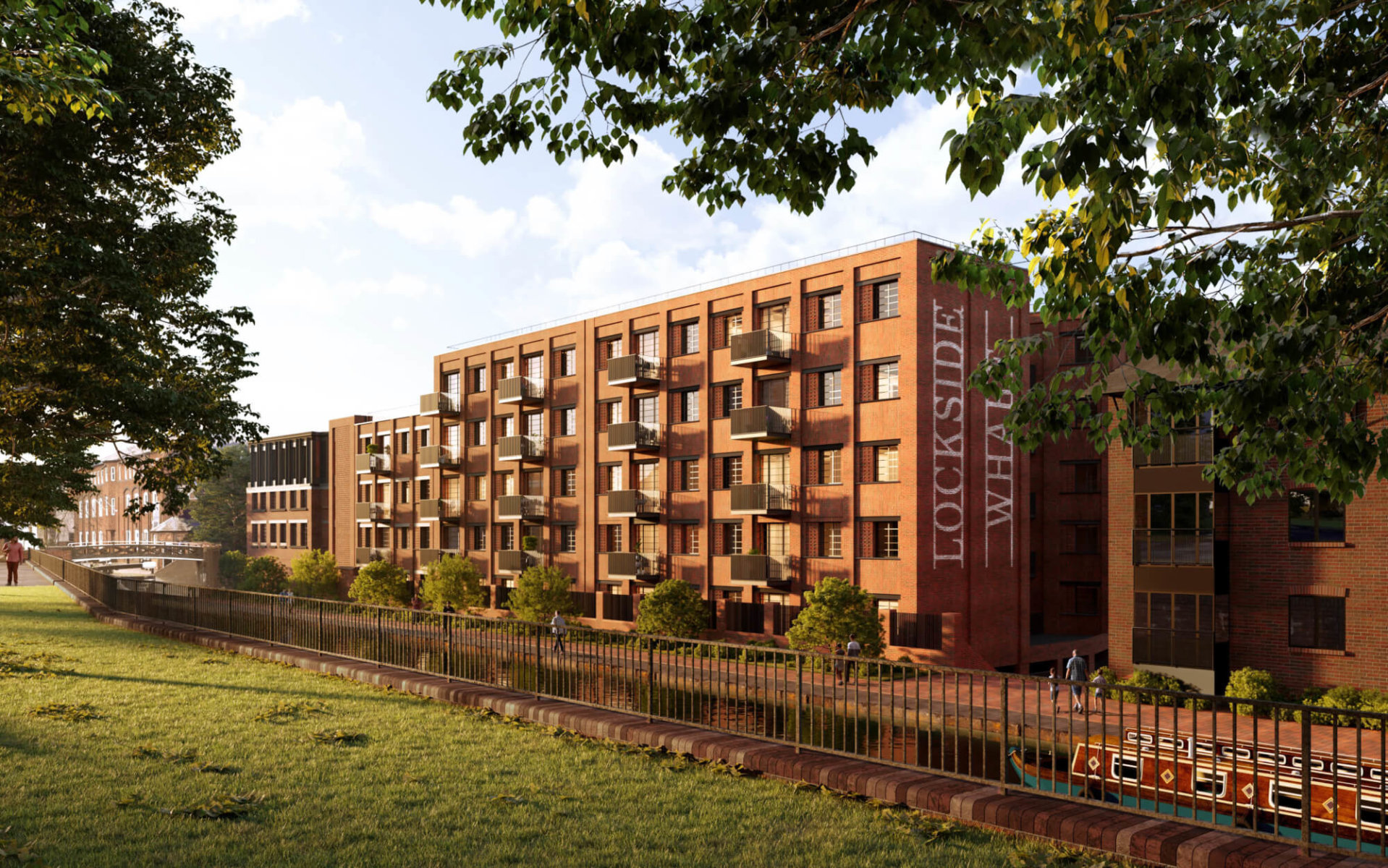 Leading property investment company Joseph Mews Property Group has now sold out all units of the new canal side development, Lockside Wharf, in Birmingham. The development consists of 61 units and is located on Scotland Street in the heart of the city centre. Developer Consortia Developments appointed Joseph Mews as the exclusive sales, marketing and delivery agent in Q4 2021, and has worked closely with Joseph Mews to bring Lockside Wharf to market.
Due for completion in the quarter three of 2023, the sympathetically restored development has been a key landmark in the centre of Birmingham for many years, with many local residents knowing the building by its previous moniker 'Scotland Works'. By restoring and extending the existing structure, including adding an additional storey to part of the building, the developers were able to produce something exceptional. Complete with luxury elements such as wine fridges, Poggenpohl kitchens and balconies overlooking the canal, Lockside Wharf has set a new standard for high-end living in Birmingham.
Consortia Developments sought to maintain the essence of the original construction when converting it into Lockside Wharf, allowing for the preservation of the unit's overall structure and maintaining some of its original features, whilst transforming it into an array of prestigious one, two and three-bedroom apartments. Overlooking the extensive Birmingham and Fazeley Canal Network, the development offers a slice of serenity amongst the plethora of opportunities that Birmingham City Centre has to offer its residents and visitors.
Director of Joseph Mews, Andrew Segal, told us:
"Having worked with various developers over many years and delivering more than 6,000 apartments, we have been very impressed with the quality of the build, the high specification and attention to detail on every aspect of this development. This has helped us to sell out completely almost 12 months before completion."
The location of Lockside Wharf is an impressive selling point in itself, boasting exceptional commuter routes both within and outside of the city. With Birmingham International Airport being a 22-minute drive away, New Street Station being a brief 13 minute walk away, and London being less than an hour and a half away, Lockside Wharf is accessible to local, national and international residents.
Why Invest At Lockside Wharf?
The construction of Lockside Wharf coincides with an impressive boost to the Birmingham local economy. The success of the 2022 Commonwealth Games has placed a spotlight on the region, exhibiting the city to over one billion television viewers and one million in-person spectators. What's more, exciting business opportunities abound in the city centre, with Goldman Sachs, HSBC and PwC all having headquarters within easy reach of the new development. Considering the impressive graduate retention rate at Birmingham's multiple nearby universities, the strength of these businesses and the talent they attract is expected to grow exponentially, feeding demand for properties such as those available at Lockside Wharf. Beyond work, residents can also be reassured that a range of leisure and retail destinations are within walking distance of the development, with Brindleyplace and St. Paul's Square offering opportunities to relax, dine and explore the best of what Birmingham has to offer.
Considering the impressive prospects Birmingham has to offer, it's no wonder that Lockside Wharf has proven immensely popular, especially with buy-to-let investors. Purchasers have been won over by the prospect of 24.5 per cent price growth by 2026, impressive predicted yields of over 5 percent, and a considerable anticipated rental price boost of 14 per cent over the next four years.
About Joseph Mews and Consortia
Lockside Wharf has proudly been brought to market by leading UK property investment company Joseph Mews, whose head offices are just a stone's throw from the development. With over a decade of property investment experience, Joseph Mews partners with trusted developers to bring premium investment opportunities to market for their clients across the UK, UAE, South-East Asia and South Africa. Their 2,500 clients have benefitted from their award-winning service, which has delivered an impressive 6,780 units to help bolster portfolios and generate wealth for investors across the globe.
Johnny Conran, Director of Joseph Mews, told us:
"Having seen a wide range of developments in the Birmingham market over the last decade, it has been a pleasure to work on a development that is so fantastically located, creatively designed and intricately project managed. Consortia's attention to detail and commitment to the quality of their developments makes working with them a thoroughly enjoyable task. Being able to offer our clients at Joseph Mews such a fantastic development has been great for our business. The rate at which we have sold the development out is testament to not only our global network but also the quality of the Lockside Wharf as a development."
Consortia Developments is an independent, privately owned company that has earned respect across the industry for its inventive and ambitious outlook on property development. By combining sympathetic restoration of existing structures with truly innovative practices that seek to create sustainable living spaces for the next generation of residents, Consortia has been able to provide an exquisite balance between nostalgic construction and modern living at Lockside Wharf. With an extensive portfolio worth £275 million, Consortia has brought an abundance of knowledge and expertise into their work on Scotland Street, which has been key in catapulting the development to success.
Director of Consortia Developments Oliver Clayton told us:
"We are delighted to be working with Joseph Mews and to have sold out what is sure to be one of Birmingham's most exciting and desirable developments. We look forward to building on the success we've had at Lockside Wharf, working alongside Joseph Mews to build a lasting sustainable partnership, and continuing to deliver high-quality, functional spaces that will appeal to the market for years to come" 
You can view Lockside Wharf here, or register your interest in upcoming Birmingham investment opportunities here to be the first to hear about new launches.