UK Property Market in 2022
UK house prices have continued to rise strongly throughout this year, increasing by 5.6% in the first six months and driven by elevated levels of demand. It's expected that by the end of the year, the UK will see prices rise by a total of 4.5%.
Savills believe that while transactions and thus price growth will continue into 2022, it'll be tempered by the exceptional growth we've seen this year – especially if interest rates start to rise sooner than expected.
This will lead to a 'soft landing' rather than a dramatic price correction over a short period of time.
It's expected that during 2022, the Midlands and the North of England will show the strongest price growth, mainly driven by their greater capacity for growth.
Featured Development
Lockside Wharf
Birmingham
Stunning Off-Plan Investment Opportunity
Off-plan apartments – estimated completion 2023
City-centre location just 3 minutes from Brindleyplace
Unique waterfront living in Birmingham
24.5% price growth expected by 2026 (JLL)
Top location for London leavers – forecasting yields above 5%
UK Rental Market in 2022
With news breaking in 2021 that renting was officially cheaper than buying in terms of monthly payments, the rental market has continued to grow from strength to strength.
JLL expect that rental prices will grow by 12% by 2026, as the UK market continues to grow alongside increased demand.
This is following on from exceptional price rises in a number of UK regions, particularly the East Midlands, which saw 8% over the last year – the leading growth in the country.
With the UK economy faring better than expected in terms of unemployment and GDP growth, the UK property market forecast suggests that this rental growth is sustainable going forward.
UK Supply & Demand
Demand from buyers for UK property continues to rise while supply has hit an all-time low.
Sales agreed year-on-year has risen by over 30% across the UK, while exchanges have also increased by 55% – a clear signpost of how quickly demand is outstripping supply.
According to TwentyCi, estate agent listings have decreased by 50% to normal levels, while 530 UK districts have housing stock levels below two month targets.
In terms of tenant demand, 48% of the Derby market is under-35, highlighting the potential for investment returns from a young professional market that is increasingly likely to rent.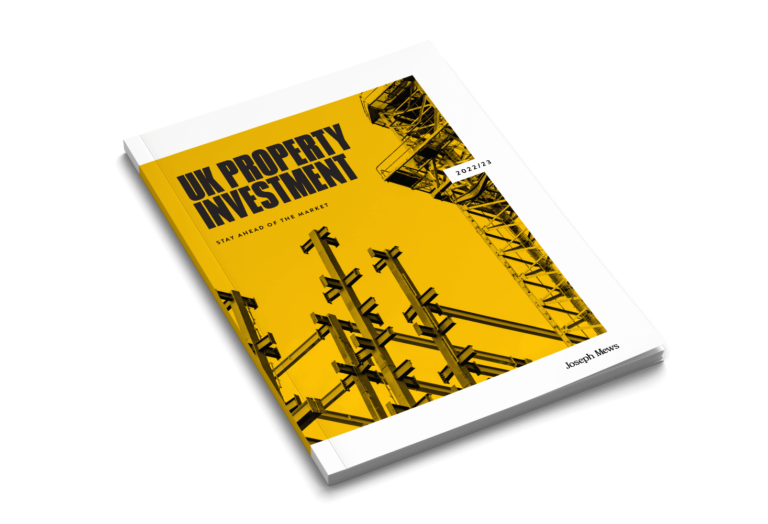 Download the 2022 UK Investment Guide
Want to know more about the UK property market for 2022? Download the UK Investment Guide today and discover everything you need to know about UK property investment in the new year. In this guide you'll find:
Current market performance
Forecasts for the UK property market in 2022
Key trends impacting the market
Best places to invest in 2022
Download Guide
UK Economic Performance in 2022
According to the British Chambers of Commerce, UK GDP growth has been so strong over Q2/Q3 of 2021 that the UK economy is expected to return to pre-pandemic levels by Q1 2022.
This will be followed up by 5.1% growth over the remainder of the year, mainly driven by consumer spending and the release of pent-up demand.
Business investment is also forecast to rebound in 2022, supported by the boost immediately following the re-opening of the economy. BCC have warned that this boost could slow in 2023 if corporation tax increases.
Finally, BCC have warned that recovery will likely be 'uneven'. Sectors most hit by the pandemic – catering and hospitality for example – will only return to pre-pandemic levels in Q2 2023. In contrast, manufacturing as a sector is expected to return to pre-pandemic levels by the end of 2021.
Strong Regional Performance
Savills predictions suggest that the North West and the West Midlands will be the leading regions for growth in England over the next four years – seeing 28% and 24% price increases respectively.
In 2022 specifically, Savills have forecast growth of 4.5 and 4% in both of these regions, largely driven by the potential ceiling for growth and standard of amenities being created within key cities.
Going forward, growth in the UK – particularly in regional cores – will be dictated by interest rates. While rates are expected to increase in the years to come, the consensus is that there's enough demand in the market to sustain the current levels of activity.
Frequently Asked Questions
Is buy-to-let a good investment?
If you were to measure how 'good' a buy-to-let investment is based on its past performance, this asset would probably come out on top. However, different assets will suit some more than others based on their financial goals.
If you're looking for a resilient asset that can offer a passive income as well as the opportunity for capital growth, buy-to-let property could be the best asset for you.
With 20% price growth in the UK on the horizon, along with 12% increases in rents by 2026, forecasts suggest that buy-to-let property could be the route to financial freedom for many investors.
Is buy-to-let worth it?
When it comes to investing there's generally no 'one size fits all' approach and buy-to-let property will suit some investors more than others.
However, for those who are looking for a long-term investment asset with a track record of competitive growth and more price increases on the horizon, buy-to-let is often the best option.
Buy-to-let is a flexible investment assets and can offer diversification across a wider portfolio. It's historically one of the most stable assets and is much less exposed to external factors, plus it's a physical asset, which makes it appealing with certain investors.
The answer to 'is it worth it?' depends entirely on how you use it. If you use it as a long-term asset, it's proven to be a potentially lucrative investment vehicle that can be scaled effectively.
Why invest in UK property?
UK property is recognised as one of the most appealing investment assets across the world. In comparison to other markets, the UK property market is not only resilient, but it can offer consistent short- and long-term returns.
While rental income can usually cover the monthly payments of the property and then some, this asset also grows over time. UK property prices have been on an upward trajectory for the best part of 10 years, with the average property price now 61% higher than it was 10 years ago.
Will prices fall in the UK?
After the unexpected growth in property prices in the UK throughout 2020 and much of 2021, a sudden fall in prices was expected, especially with the end of the Stamp Duty holiday.
However, UK property price forecasts expect property prices will continue growing for the next two years, at least. Finishing 2021 on 5% price growth, followed by 4.5% increases in 2022 and 4.5% the following year, forecasts are not anticipating decreases in average property prices across the UK until 2026, at least.
Where to invest in buy-to-let in the UK?
Understanding where to invest in buy-to-let in the UK continues to be a tough decision for many investors, especially with so many potential locations in the country.
The best way to answer this question is to establish what you're looking to achieve. Do you have short or long-term goals? Are you looking for capital growth or rental yields?
If you're looking for more immediate rental returns, you'll need a location with high yields and strong tenant demand.
On the other hand, if you're investing for capital growth, you'll want to identify areas that are regenerating and redeveloping the surroundings. This kind of activity often pushes property prices higher, which can deliver appreciation over time.
If you're looking to find the best places to invest in the UK in 2022, why not check out our list here? 
What is a good rental yield on property in the UK?
Rental yields are arguably one of the most important metrics for prospective investors to consider, but what is a good rental yield?
The average rental yield in the UK currently sits at 3.63%, meaning anything over this amount is considered an above average – or good – rental yield.
The likes of Birmingham and Derby are far surpassing the UK average and are prime examples of some of the highest rental yields in the UK. While Derby's average rental yield currently stands at around 4.20%, buy-to-let property across Birmingham has pushed the city's average rental yield to 6.56%.