What is a Rental Yield?
For investors, rental yields are one of the most important metrics to consider. Measuring annual rental income against the overall value of your property, this metric is crucial for estimating your returns. Understanding rental yields will also allow you to build a potentially lucrative portfolio by choosing locations with the best rental yields in the UK. 
Property investment offers two main sources of income – capital growth and rental income. While capital growth can provide you with a 'lump sum' on the sale of your property, rental income will be the more consistent revenue stream, which is why understanding rental yields is so important for investors. 
Fundamentally, rental yields are calculated based on how much rent your property earns over a year and is compared against the price of the property. 
On the other hand, capital growth is more of a long-term measurement. This is the amount of profit you make on the sale of your property based on market cycles and natural price increases over time.
What is the UK Average Rental Yield?
The average UK rental yield in 2022 is 4.71%, meaning anything above this can be considered a high rental yield.
This yield is achieved thanks to an average property price of £270,768 and rents hitting a high of £1,064 per month.
Overall, the best average UK rental yields are typically in areas that have strong demand for residential property and higher rental prices.
Investors should also be looking for affordable locations that have the amenities to support higher rents, as these areas can provide much higher average rental yields.
This is why cities such as Derby and Birmingham have been recognised as investment hotspots – they're more affordable than cities such as London but still maintain relatively high rents and thus, yields.
Savvy investors can use a UK market forecast to find affordable areas that are showing good capital growth, future redevelopment and strong tenant demand – meaning an investment that delivers higher rental yields while growing in value over time.
These pockets of potential are dotted around the UK and often come in the form of smaller 'regeneration hotspots' instead of bigger cities. While locations such as London might have sky-high rents, the property prices are just as high, reducing the yield power.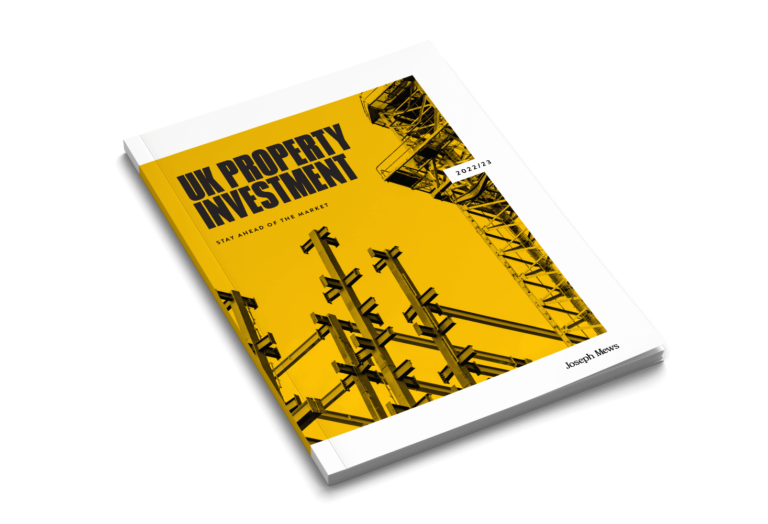 Download the 2022 UK Investment Guide
Want to know more about the UK property market for 2022? Download the UK Investment Guide today and discover everything you need to know about UK property investment in the new year. In this guide you'll find:
Current market performance
Forecasts for the UK property market in 2022
Key trends impacting the market
Best places to invest in 2022
Download Guide
Best Rental Yields in the UK 2022
Every new year comes with a new investment opportunity and inevitable changes to where the best rental yields in the UK are. After the performance of the UK property market throughout 2021, buy-to-let property continues to be a potentially lucrative investment asset in 2022. 
The extension of the Stamp Duty holiday, combined with the loosening of Covid-19 restrictions, has pushed demand for UK property to new highs across both rental and sales markets. The momentum from this tax incentive is expected to sustain transactions for 2022 and beyond. 
As tenant demand increases in many of the UK's major cities, we're seeing a number of new locations emerge that offer the UK's best rental yields.
For those that want to invest in property for capital gains, we have used a combination of Zoopla and Homelet data to determine the regions with the best rental yields in the UK:
| | | | | |
| --- | --- | --- | --- | --- |
| Region |  Average Price | Average Rent |  Average Rent (p.a) | Rental Yield |
| London | £649,941 | £1,759 | £21,108 | 3.25% |
| South East | £433,757 | £1,132 | £13,584 | 3.13% |
| South West | £330,846 | £760 | £9,120 | 2.76% |
| West Midlands | £248,495 | £792 | £9,504 | 3.82% |
| East Midlands | £237,241 | £728 | £8,736 | 3.68% |
| East | £368,732 | £1,021 | £12,252 | 3.32% |
| North East | £202,341 | £588 | £7,056 | 3.49% |
| North West | £216,089 | £832 | £9,984 | 4.62% |
| Yorkshire & the Humber | £192,611 | £727 | £8,724 | 4.53% |
| Wales | £210,262 | £742 | £8,904 | 4.23% |
| Scotland | £217,468 | £738 | £8,856 | 4.07% |

Updated for Q1 2022

As we have previously mentioned, London continues to achieve below-average rental yields, largely due to the city's high property prices and rents. 
The London 'exodus' has been a significant contributor to the city's underperformance, which has seen many tenants flee the capital for smaller cities or suburban spots. 
With this in mind, it's no surprise that regional cores are leading the way with some of the best rental yields in the UK. Strengthened by extensive regeneration and a growing employment base, these cities are following closely in the footsteps of Birmingham property investments.
Expected Rental Growth in 2022 and Beyond
Understanding which locations are forecasting the best rental yields in the UK is crucial for planning your next investment.
In 2022, more affordable regional cities will continue to be rental hotspots. As tenant priorities change – many need more space at home – city centre properties that offer easy access to transport links, work and social amenities while still offering extra living space will be popular, which in turn drives up rents.
This has contributed to rent growth forecasts of 12% on average for the UK, while individual cities in popular investment regions such as the West Midlands are forecasting higher. Birmingham rental yields, for example, will grow if the city's predicted rental growth of 14% by 2026 comes to fruition.
Since 2020, the East Midlands has led the way in the annual change in rents – rental prices grew by 8% over the last year – which has put cities such as Derby firmly on investor's radars.
Featured Development
Lockside Wharf
Birmingham
Stunning Off-Plan Investment Opportunity
Off-plan apartments – estimated completion 2023
City-centre location just 3 minutes from Brindleyplace
Unique waterfront living in Birmingham
24.5% price growth expected by 2026 (JLL)
Top location for London leavers – forecasting yields above 5%
How to Work Out a Rental Yield
If you came here asking, 'what is a good rental yield?' you'll  now know the importance of this metric, but how exactly do you work out a rental yield?
Rental yields are split into net yields and gross yields, both of which are crucial for your financial planning.
Generally speaking, a gross yield includes your returns before any expenses have been paid. A net yield, however, is arguably a more accurate metric, which gives you an idea of your returns after you've paid your expenses.
You can work these yields out using a similar equation:
Gross yield = annual rental price / property value x 100
Net yield = annual rental price – costs / property value x 100
What Costs Are Involved in Property Investment?
Net yields typically offer a more accurate account of what your returns will be, but to be able to work out this number, you'll need to understand the potential costs involved. Naturally, these costs differ depending on whether you're an active or passive investor, but either way you should prepare for multiple mandatory costs that will inevitably impact your net yield.
The first thing to consider is your mortgage. For those who are looking to get a mortgage in order to purchase their buy-to-let property, this will likely be the biggest cost to consider, although it is usually covered by rental income.
Other compulsory payments include service charges and maintenance costs, which will need to be noted before you begin investing.
Your position as an active or passive investor will then determine any other financial commitments. For example, if you want to be a passive investor, you'll need to factor in agent fees and admin costs from the outset.
Active investors won't need to consider these costs which can often make a significant difference on returns in the long-run, but if you're an overseas investor, you probably won't have the opportunity to play an active role in your investment.